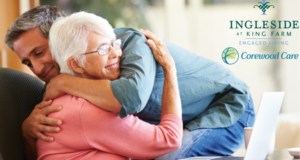 PARTNERS IN CAREGIVING SERIES
GUEST PRESENTERS:
Pamela Mills, Director of Memory Programming Ingleside
Mary Ann Buckley, LCSW-C, C-ASWCM, Executive Director of Care Management, Corewood Care
Getting Answers About Dementia
An educational seminar for those caring for a family member with dementia
Caring for a loved one living with dementia can be both rewarding and stressful. Are you asking yourself these questions: How do I balance my own needs with those of my loved one? Is my loved one thriving in their current environment? What happens when I can no longer provide the right care and support?
JOIN US FOR AN INFORMATIVE PRESENTATION
Saturday, February 8 11:00 a.m.–1:00 p.m.
ENJOY BRUNCH WHILE YOU LEARN:
– How to talk with family about making a move to assisted living
– Taking care of myself when caring for another
– Discussing the future—family member and caregiver
Ingleside at King Farm 701 King Farm Boulevard Rockville, MD 20850
SEATING IS LIMITED—RSVP TODAY
240-206-6263 // infoIKF@Inglesideonline.org // Complimentary valet parking
Ingleside at King Farm is a not-for-profit, CARF-accredited, SAGECare-certified, life plan community.