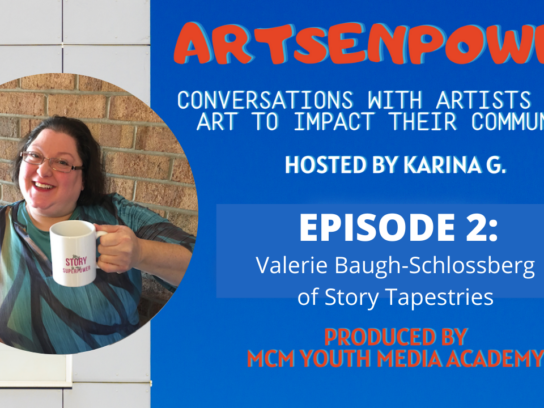 Valerie Baugh-Schlossberg is the program director of Story Tapestries, an arts-based nonprofit located in Rockville. Baugh-Scholssberg brings her theater training and youth-development background to Story Tapestries, an innovative nonprofit that helps individuals and organizations optimize their work with young people. In this episode of ArtsEnPower, Baugh-Schlossberg is interviewed by Karina G, a former participant in Story Tapestries programming and the host of ArtsEnPower. 
ArtsEnPower is a youth-produced program series that focuses on the ways that creative people use their artistry to enhance their community. ArtsEnPower is a project through the Montgomery Community Media (MCM) Youth Media Academy. Season one of ArtsEnPower was produced during the fall semester of MCM courses and programs. The young people enrolled in MCM Youth Media Academy courses served as the writers, producers and directors of the series that is now running on Mondays at 4:30 p.m. on Channel 21. You can watch all episodes on YouTube here.
The MCM Youth Media Academy is an out-of-school time program that offers media instruction and leadership training to youth aged 13-17 years-old. Taught by Montgomery Community Media professionals, using an Advancing Youth Development (AYD) framework, MCM Youth Media Academy is designed to engage youth in quality media instruction tailored to their age group. We are currently in the midst of our second iteration of MCM Youth Media Academy which started on February 9, 2021 and ends on April 1, 2021. We will start accepting applications for youth to participate in the summer edition of the MCM Youth Media Academy 4-week program that begins June 21. Click here to learn more.
This production was recorded and produced virtually as MCM studios are closed to the public due to COVID-19. To learn more about MCM classes and programs, visit https://www.mymcmedia.org/training/up…
Montgomery Community Media (MCM) is the only independent, nonprofit organization providing access to public media (public access television and broadband media) directly to Montgomery County's over one million residents as well as the resident non-profit organizations, associations and businesses. We engage, educate and empower individuals and the community to express diverse viewpoints.