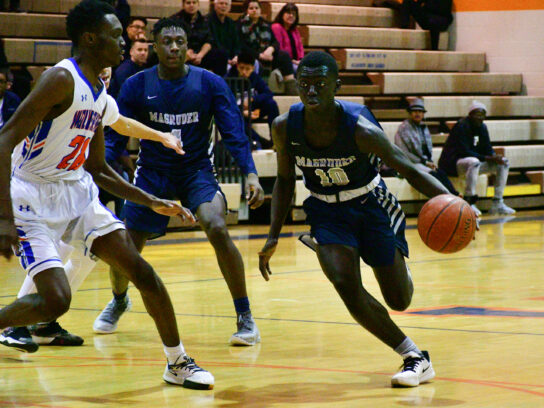 Watkins Mill High School, Montgomery Village, Jan. 31, 2020
The game at Watkins Mill Friday night brought back memories of basketball games I coached in that very gym years ago. The biggest difference between then and now wasn't how hard both teams competed. That was very apparent. The very noticeable difference was once upon a time that gymnasium was packed by Wolverine students, this was not true tonight. I am not sure why there weren't many students supporting their very talented team but someone should ask the question. It was Friday night. It was a very important 3A game against Magruder, one that would give the Wolverines a share of the 3A division lead. I was told there was no school announcement at the end of the day encouraging students to attend the game. Someone at Watkins Mill should acknowledge the hard work and success of this basketball team. Hopefully the Wolverine fans will come out and support a very good team. I have been covering boys and girls basketball for several years and I have seen packed gyms nearly every game I attend.  I was surprised to see so few students in the stands at Watkins Mill.
The game was closely contested during the first half with the Mill up two at the end of the first quarter 17-15. At the end of the first half the Wolverine lead was three points.  As the third quarter progressed the Mill successfully penetrated the Magruder defense and extended their lead to 38-30.  That point difference was a result of cold shooting by Magruder who scored only five third quarter points. The eight point lead was the difference at the end of the game with Watkins Mill on top 58-50.
At this point in the season, teams want to be playing their best basketball as they approach the playoffs. The Wolverines are headed in the right direction and ready to surprise teams in the county 3A division.
Scoring in double figures were:
Watkins Mill
#5 Holland         18
#10 Brown          12
#15  Crespo         10
Magruder
#12  Michael Myrie     16
#10  Rashid Abudu.    13
#4   Chris Asamoah    12
Pictures to follow by Daryl Schultz