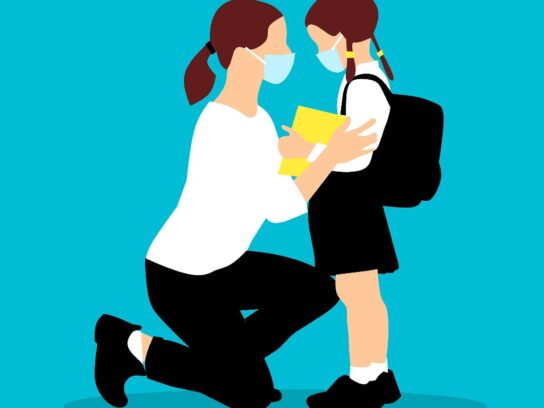 The Board of Education is set to vote March 8 on a policy that could make facial coverings optional in Montgomery County Public Schools (MCPS).
The Board will discuss relevant and recent data in relation with federal, state, and local guidelines to determine if face masks should still be required in MCPS. The state of Maryland recently repealed the requirement schools amid the Centers for Disease and Control's updated guidelines.
MCPS expects the Board to vote in favor of an optional mask policy for schools.
"The changes to our mask policy will be welcome to some and it may be worrying to others," read an MCPS statement. "There will be students, teachers and administrators who want or need to continue to mask in our schools. We must respect that."
Masks are expected to become optional on transportation, like school buses, and at extracurricular events. Windows on school buses will remain open, weather permitting.
MCPS maintains a COVID mitigation strategy, which includes: rapid at-home COVID testing, random in-school rapid COVID testing, improved HVAC systems, vaccination clinics, and distribution of KN-95 masks.
Montgomery County is currently classified as "low" COVID-19 impact, by CDC measurements. Quarantine and isolation periods for those exposed or positive has been lowered from 10 to 5 days. Vaccination clinics will be offered at schools March 5-6, and at other locations around the county.
COVID transmission rates continue to be monitored by MCPS, which is tracked in the COVID-19 Data Dashboard. If a shift in transmission prompts additional changes or reinstatement of the mask policy, MCPS will take appropriate action.