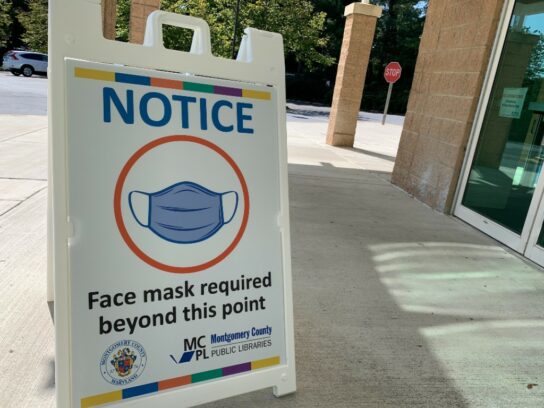 Montgomery County will terminate the indoor mask requirement in locations accessible to the public effective Monday at 11:59 p.m.
"In consultation with our outstanding public health team, we have determined that an indoor mask mandate is not required at this point because Montgomery County's vaccination rates are some of the best in the nation and case rates, hospitalizations, and community transmission rates are low," said Council President Gabe Albornoz.
On Jan. 25, the Montgomery County Council met at the Board of Health and imposed a second regulation in response to the Omicron variant. The regulation extended the mask mandate in indoor locations. The extension was set to expire on Feb. 21, at 11:59 p.m., as long as the Council did not intervene.
"While masks will no longer be required in indoor public spaces, I will generally continue to wear a mask in indoor public spaces because wearing a mask, as well as being fully vaccinated and boosted, are the best ways to reduce the risk of transmitting and getting COVID-19," Marc Elrich, County Executive, said. "We will continue to monitor the situation, and if there should be another surge, based on our experience over the last two years, we know what we need to do to reduce the risk."
Private businesses can continue to enforce a face covering policy within their establishments. The County strongly recommends front-facing employees and facility visitors continue to wear a facial covering, especially if they have not received their booster shot.
"We ask everyone to respect the decisions made by individuals who continue to wear masks and the rules instituted by businesses, health care and service providers and venues located in Montgomery County," Albornoz said.
The County Council lifting the mask mandate has no impact on Montgomery County Public Schools. The MCPS mask mandate is solely dictated by the Maryland State Department and Board of Education.
Additional information regarding the County's COVID-19 metrics can be found on the data dashboard, which is updated daily at 2 p.m. Locations around Montgomery County continue to offer free testing and vaccinations.