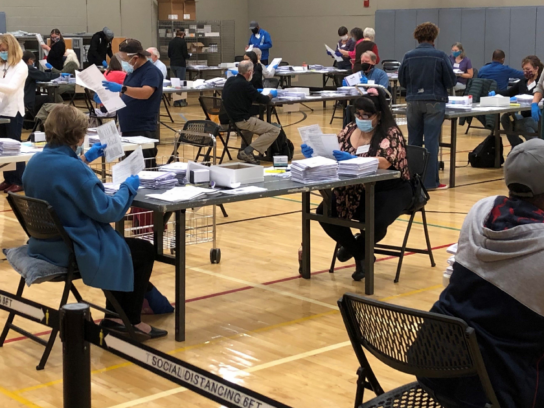 Montgomery County Board of Elections continues to process thousands of mail-in ballots that voters have returned.
Vote-by-Mail ballots are opened by Election Judges. The process is referred to as the "canvass." Canvass day three was held at the Plum Gar Recreation Center in Germantown on Tuesday.
Residents were also encouraged to see how the process goes via live-stream. Officials say the canvass process will continue as needed until all ballots are opened and scanned.
MyMCMedia spoke with Dr. Gilberto Zelaya from the Montgomery County Board of Elections to learn more about how the process works:
IT'S CANVASS DAY 3! Join us via live-stream. The canvass process will continue as needed until all ballots are opened & scanned for counting. https://t.co/r1Gb6zveuV#YourHealthYourVoiceYourVote #MoCoSecuringYourVote2020 #MakeAVotePlanMoCo pic.twitter.com/jh75xy8V23

— MontgomeryMDVotes (@777Vote) October 13, 2020
ATTENTION VOTERS: The effort needed to pick-up ballots from drop boxes or Post Office, sort, batch, check for signatures, scan as "received" & introduced into canvass 2 be ultimately processed & counted takes approximately 2 weeks or more. Your patience is greatly appreciated. 🙏 pic.twitter.com/bRnHFYmebe

— MontgomeryMDVotes (@777Vote) October 9, 2020
DID YOU KNOW? It takes 7 work hrs to test 15 Ballot Marking Devices & 4 work hrs to scan a full Test Deck of 2,240 ballots per scanner! Enjoy your weekend! #MakeAVotePlanMoCo #MoCoSecuringYourVote2020 #YourHealthYourVoiceYourVote pic.twitter.com/NIz6uyO4ak

— MontgomeryMDVotes (@777Vote) October 3, 2020