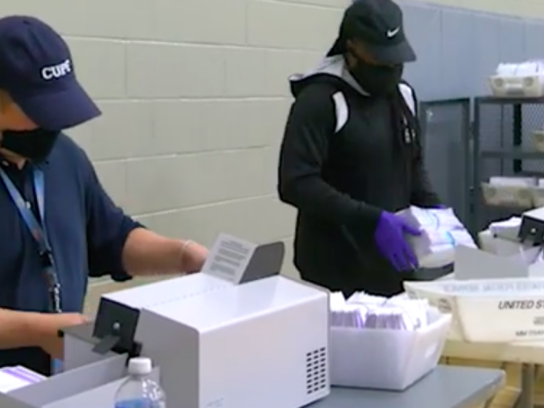 Although Election Day has passed, the local Board of Elections is still working. More Vote-by-Mail ballots have to be processed which is referred to as the "canvass."
"We have at the moment scanned in as received about 331,000 mail-in-ballots… we have accepted around 175,000… so you will see those voter records flip from received to accepted," said Montgomery County Board of Elections Spokesperson Dr. Gilberto Zelaya during the county's weekly virtual media briefing on Wednesday.
Dr. Zelaya says they are preparing for the next canvass which will begin again on Thursday with each day's results added to the previous day's total until all ballots are counted. The canvass process will also be live streamed.
Here's an update for the number of overall votes tallied so far:
Click here to view the unofficial 2020 Election results for Montgomery County.
According to the Montgomery County Board of Elections website, the canvassing process typically takes several weeks, as ballots postmarked by Election Day can still be received for up to 10 days after Election Day. In Maryland, Joe Biden won the state's electoral votes. See full results for Maryland here.
@777Vote: https://t.co/djU8eZNc2B@md_sbe: https://t.co/a7vxqlICVQ#MoCoSecuringYourVote2020 #LaJuntaAsegurandoSuVoto pic.twitter.com/qpfpzQtNa8

— MontgomeryMDVotes (@777Vote) November 4, 2020