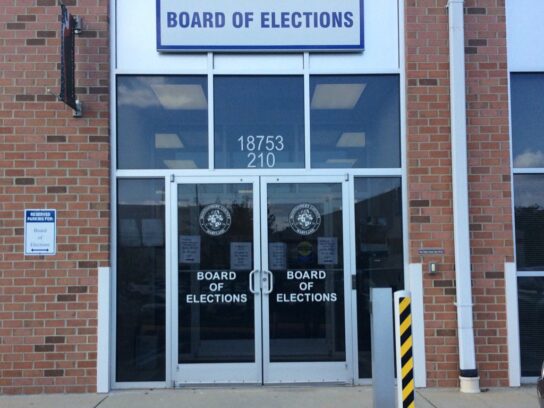 Montgomery County Board of Elections is conducting a telephone meeting Wednesday to select voting centers for Maryland's June 2 Presidential Primary Election.
On April 2, the Maryland State Board of Elections adopted a plan for the Presidential Primary Election. The plan — which would need to be approved by Gov. Larry Hogan — requires local board of elections to establish between one to four locations for voters to drop off ballots, or vote in person if the voter is unable to vote by mail.
@777vote will convene a meeting to select vote centers for the 2020 Presidential Primary Elections, Wednesday, April 8, at 3 p.m. [Call in number: (443) 692-5768; Access code: 439801511]

Comments accepted electronically (elections@montgomerycountymd.gov) until 12 p.m., April 8. pic.twitter.com/SUxR5sQ7UU

— MontgomeryMDVotes (@777Vote) April 6, 2020
Montgomery County's Board of Elections will discuss these locations at 3 p.m. Wednesday and people can participate in the meeting by calling 443-692-5768. The access code for the meeting is 439801511.
People can also submit written comments about possible vote centers by emailing elections@montgomerycountymd.gov until 12 p.m. Wednesday.
In March, MyMCMedia spoke with , Gilberto Zelaya, the outreach and public information officer of Montgomery County Board of Elections. Zelaya is urging community members to request a Vote By Mail ballot, which is the safest option for voting during the coronavirus pandemic.