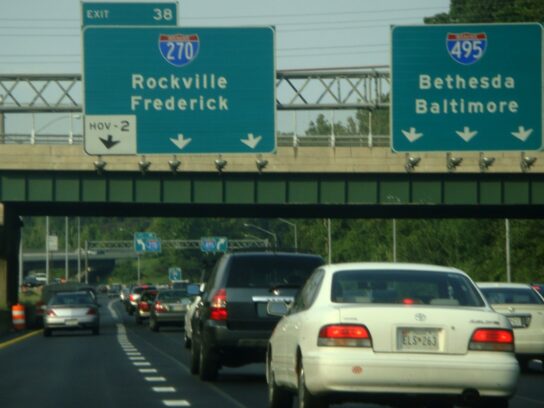 The Maryland Board of Public Works voted 2-1 Wednesday to award a public-private partnership to Accelerate Maryland Partners of Tysons, Va., to ease traffic congestion along Routes 270 and 495.
Gov. Larry Hogan and Maryland Comptroller Peter Franchot approved the plans that include replacing the American Legion Bridge and adding two high occupancy toll lanes in each direction from the George Washington Memorial Parkway to east Maryland 187 on 495 and on 270, from 495 north of 370 and on the 270 eastern spur from 187 to 270. No work is planned on 495 East of the 270 spur.
Franchot, who was considered the swing vote on the three member board, made the notion to approve the contract. "Kicking the can down a highly congested road is not the answer," he said.
Franchot asked several questions that he said arose from concerns by his fellow Montgomery County residents. He asked Maryland Department of Transportation Secretary Greg Slater about the reputation of Transurban, proposed labor agreements and whether MDOT would work with Montgomery County officials as the project progresses. Slater pledged to do so.
Franchot said he was pleased that no homes would be taken before construction plans were awarded.
Treasurer Nancy Kopp, the lone opposition vote, said that while she understands something must be done to alleviate traffic congestion, the plan would not do so, and in fact could add even more congestion when traffic backs up at 370.
"I think we cannot just look at more concrete," but rather must consider multiple alternatives, including public transit, she said during a four-hour discussion.
Transurban USA is the lead project developer and contractor in a group that includes Macquarie Infrastructure, which also would be the lead project developer and contractor; Dewberry Engineers and Stantec Consulting Services would be the lead designers; and Bechtel Infrastructure Corporation would act as supporting construction manager.
Phase 1, which was approved Wednesday, only covers predevelopment work. No construction is completed. The plan permits work from both union and non-union workers.
The updated plans call for building a new American Legion Bridge and two high occupancy toll lanes in each direction from the George Washington Memorial Parkway in Virginia to east Maryland 187 on 495. On 270, from 495 north of 370 and on the one 270 eastern spur from 187 to 270 , there will be high occupancy toll lane added in each direction. No work is planned on 495 East of the 270 spur.
About 40 people testified. Many spoke in favor of the project, saying traffic has added to their time on the roads and subtracted from time with their families. Business owners cited financial losses due to time spent in traffic.
Carmen Larsen, president and chairman of the board of the Hispanic Chamber of Commerce of Montgomery County, spoke in favor. "We want to get this project moving. It's a matter of social justice and equity," she said, noting that many members were only able to purchase more affordable homes along 270 and therefore now spend extra time commuting in rush hour traffic. Also, she noted that project would bring needed jobs to the area.   

Marilyn Balcombe, president and CEO of the Gaithersburg and Germantown Chamber of Commerce, said her organization supports the P-3 project, calling it "the first real opportunity to address traffic congestion." She noted, "Congestion makes our local economy much more difficult."
But others testified that they didn't believe this P-3 project would end traffic congestion. County Executive Marc Elrich called the project "fatally flawed" and said, "I think this is the wrong time to do this project." He urged the state to look for federal funding and conduct further financial studies.
"Not this project. Not now," testified Delegate Cheryl Kagan. She said it would bring "exorbitant tolls" and does not take into consideration that more people are teleworking now than were when the project was designed.
Rockville City Mayor Bridget Donnell Newton testified that all city councilmembers stand in opposition of the project. She pointed to concerns with the environment, toll charges and social justice. "This is not traffic relief," she said.
Recently, members of the Montgomery County Council said they supported the P-3 agreement. However, Tuesday they wrote a letter urging the Board of Public Works to receive required fiscal analysis before voting on the agreement.
📣 Today is a big day in Annapolis! It is now or never that the right choice is made for the future of traffic congestion and our environment in @MontgomeryCoMD. Take a look at this map … we must avoid this soul-crushing choke point at 370! 🛑 pic.twitter.com/bdoz7UFT0u

— County Exec Marc Elrich (@MontCoExec) August 11, 2021
Montgomery County Council Urges Maryland Board of Public Works to Receive Required Fiscal Analysis Before Voting on Pre-Development Agreement to Build Toll Lanes on I-270 and I-495. Link: https://t.co/nsOCsSDir9. pic.twitter.com/HZy9avI3Ue

— Montgomery Council (@MoCoCouncilMD) August 10, 2021
At today's meeting, the @MarylandBPW advanced our historic Traffic Relief Plan to ease congestion on the Capital Beltway, build a new American Legion Bridge, and deliver more transit services for the region.

My full statement: pic.twitter.com/PTnF9K2Jgm

— Governor Larry Hogan (@GovLarryHogan) August 11, 2021