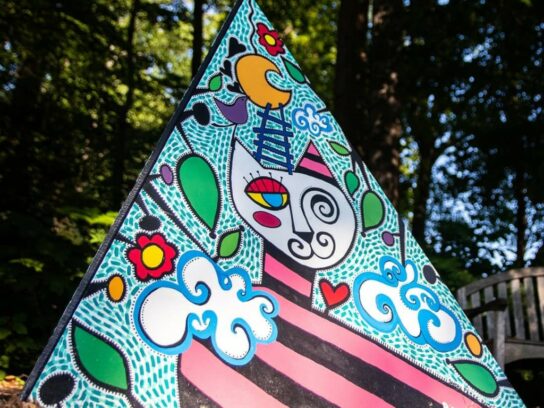 The Wheaton Arts Parade and Brookside Gardens collaborated with 16 artists from Montgomery County to put together an outdoor exhibit that features 13 unique pyramids.
 

View this post on Instagram

 
Each pyramid tells a story and includes a QR code which can be scanned to hear a recording from the artist explaining their work and creative process, according to the Wheaton Arts Parade website. The stories range from colorful fantasies to captivating culture with one even depicting El Salvador from memories of Wheaton families.
The brightly painted mandalas on Maria Luisa Benavides' "Pure Nature" in "Pyramids 2021" at Brookside Gardens emphasize value of hard work and depict flowers and animals of her home, Costa Rica.

The artist has more in her own words:https://t.co/WChWZhhrvG.#BGPyramids2021 pic.twitter.com/pN9QDyYdB1

— Montgomery Parks (@MontgomeryParks) August 10, 2021
The pyramid shape for the artwork was inspired by the "Wheaton Triangle" where Wheaton is formed from the intersection of three state highways. Since the annual Wheaton Arts Parade and Festival wasn't held last year due to the COVID-19 pandemic, the art was brought outside to allow county residents to view it safely using the same shape that is typically featured on posters for the "Parade the Triangle" event.
Some of the parade's traditional "Yarn Bombs" made by Edith Salazar and Felisa Federman, the leaders of the Yarn Bomb event, are also hanging on 14 trees outside the Brookside Gardens visitors center. On Aug. 15, from 10 a.m. to 12 p.m. a free yarn bomb workshop will be held there for the public.
The artists featured in the exhibit are:
Laura-Leigh Palmer
Savannah Scollar
Angela Davidson
Jessica Muñiz-Witmer
Edwin Salmeron & Allyson Sanchez
Peijisan Art & Mary Del Bianco
Kelsey Joyce
Francisca Oviedo & Felisa Federman
Maria Luisa Benavides
Liliana Huaman
Carlos Ramos
Sandra Perez-Ramos
Emily Yeagley
"Pyramids 2021" will be open daily from sunrise to sunset through Sept. 19 at Brookside Gardens. To listen to audio clips from the artists, view a map of the park and learn more about the exhibit visit the Wheaton Arts Parade website.