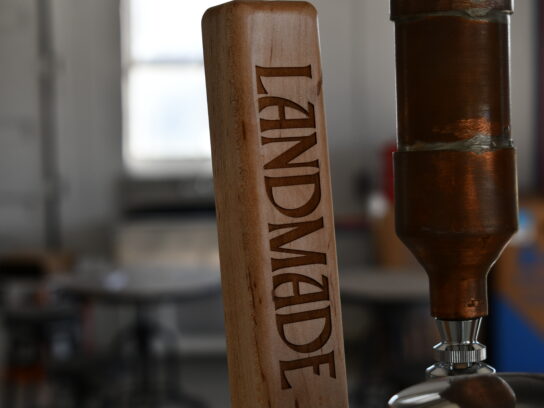 Landmade, a new brewery located in Poolesville, contributes to preserving the historic farmland in the Montgomery County Agricultural Reserve.
The 1980 Montgomery County Council designated 93,000 acres — encompassing nearly a third of Montgomery County's land — as the Agricultural Reserve. The decree reserved historic farmland and encouraged conservation methods. The Agricultural Reserve preserves farmland from being subdivided, even if ownership changes, and protects Montgomery County's public water supply.
Gabe Scott and his wife Amanda were living in New York City when Amanda's parents, who bought historic farmland in the Ag Reserve a few years prior, explored the idea of opening up a brewery on the land. Although not farmers themselves, Scott said they are going to do whatever it takes to propel the land's history and traditions forward.
Thus, Landmade was set into motion, a mixture of traditional farm life with a modern enterprise.
"We're not knocking down farm buildings to build a brewery," Scott said. The brewery's tasting room resides in a repurposed cattle station, with minor improvements like a fresh coat of paint and indoor renovations. "We're in the Ag Reserve, and so we want to respect that," Scott said.
The brewery will open with a five beer menu, consisting of a Czech dark lager, a Czech pale lager, an Italian pilsner, and two pale ales. Scott said the brewery will use local ingredients in the brewing process, such as peaches from the farm's eight acre orchard.
Landmade faced delays in the months leading up to its opening, largely due to supply chain issues caused by the pandemic. Despite every issue faced, Scott is hopeful for the future, believing it's time to bring the community back together. "We don't think that there's any better way to do that than eating and drinking together."
Opening Feb. 11 from 11 a.m. to 6 p.m., Landmade will feature draft and canned beer, curated offerings at the General Store, and food truck tastings of what's to come to the brewery's kitchen. Fire pits will be lit to keep guests cozy, and Scott hinted that the farm's friendly donkeys may come out to visit throughout the day. Service dogs are welcome at the farm, but the Scotts ask pets be left at home for the time being, although the rule is subject to change in the future.