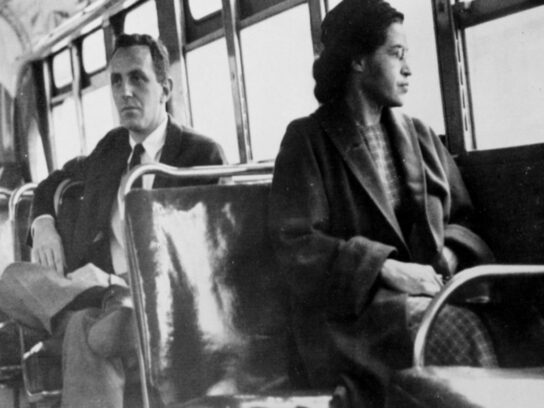 In honor of Rosa Parks' efforts to end segregation, all buses in Montgomery County will have new signage throughout the month of December.
The blue billboard,  printed in English and Spanish, carries a photo of Parks with the title, Celebrating Equal Rights. It states, "Dedicated to the memory of Rosa Parks. On December 1, 1955, Rosa Parks took a seat on a bus in Montgomery, Alabama…and her refusal to give up her seat changed the course of American history…"
County Executive Marc Elrich said it's important to recognize Parks, because "unfortunately," people are trying to reverse the gains made during the Civil Rights movement. 
"Unfortunately in the time we are in now, we are facing people who are trying to reverse the course of American history," Elrich said during his press briefing Wednesday afternoon.
"It is regrettable to note that at the same time we are celebrating Rosa Parks' month that there are states and there are the Republican members of the U.S. Congress who are busy trying to whittle away the rights of African American residents. It is embarrassing, shameful and deeply disturbing" that "we have to refight these battles," Elrich said.
📜 @MontCoExec Marc Elrich has proclaimed Wednesday, Dec. 1 as #RosaParksDay. The day recognizes Rosa Parks' refusal to give up her seat to a white man on a Montgomery, Alabama bus on Dec. 1, 1955 and recognizes Parks as an American hero! pic.twitter.com/UHWghkeF1a

— Montgomery County MD (@MontgomeryCoMD) December 1, 2021