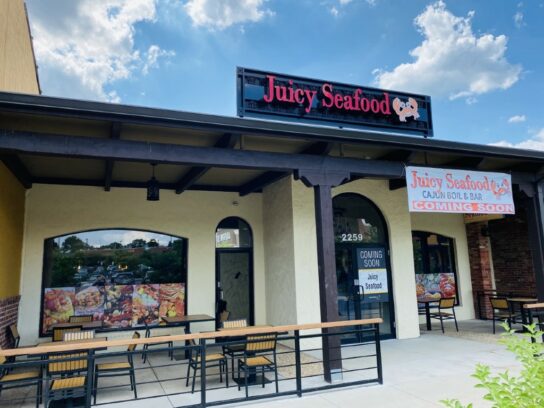 A new Cajun-style seafood restaurant will be opening its first Mid-Atlantic location on Monday, August 3. The restaurant, Juicy Seafood, will be located at Plaza Del Mercado in Silver Spring.
Their menu will offer different types of fresh seafood seasoned with Cajun sauces, along with deep-fried options, appetizers and pasta. For customers not interested in seafood, "the restaurant also offers chicken and sausage… and a beautiful bar that serves beer, wine and cocktails," according to the their press release.
https://www.instagram.com/p/CCt0fjCjDHe/
Co-owner of Juicy Seafood, Aaron Liu, realized there were no Cajun-style seafood restaurants in the Silver Spring area – her home for the last 10 years – and decided to change that.
"We have partnerships with Juicy Seafood restaurants in Kentucky, Tennessee, and Missouri and it is a pleasure to bring Juicy Seafood to our own backyard at Plaza Del Mercado," Liu said.
The business hours will be:
Monday – Thursday: 11:30 a.m. – 10:00 p.m.
Friday – Saturday: 11:30 a.m. – 11:00 p.m.
Sunday: 12:00 p.m. – 10:00 p.m.
More information about the restaurant's menu and opening can be found on their website. The 3,300-square-foot restaurant is located at 2259 Bel Pre Road in Silver Spring near the CVS.