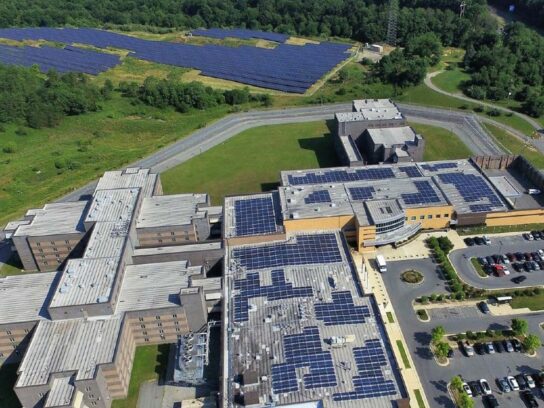 The Sierra Club of Maryland Chapter and Montgomery County group is urging residents to email councilmembers to support a resolution that would allow the construction of solar panel systems on the county agricultural reserve.
The resolution, formally known as Zoning Text Amendment 20-01, will allow a portion of land within the agricultural reserve to be used for small solar projects. It could provide solar power for up to 50,000 residents living apartments and homes, including low income families and others typically unable to fund or support solar panel construction.
"Here in Montgomery County, we've lived for years with the greenhouse gas and air pollution coming from the Dickerson power plant; some of us have developed asthma and other health problems from this pollution," the document reads. "We should be especially aware of the importance of moving to clean renewable energy."
The initiative comes nearly a week after the organization sent a letter to the county council outlining some of the benefits of the project. Within the letter, the organization noted that there's a lack of rooftops, parking lots and commercial properties available to build the necessary solar energy systems.
Action alert: ZTA 20-01 will allow building of solar powering over 50,000 households that can't have solar themselves, including low income families that can't afford their own solar panels. Email @MoCoCouncilMD https://t.co/l906cBTIgj @hansriemer@CmHucker @sierraclubmd

— Shruti Bhatnagar (@ShrutiBhatnagr) July 16, 2020
According to the letter, the proposed resolution would overtake a maximum of 1,800 acres, less than 2% of the 93,000-acre agricultural reserve. The resolution to allow solar panel construction on the property was first introduced in January by councilmembers Tom Hucker and Hans Riemer.
Amid rapid climate change, the county has undergone several solar panel and microgrid projects in an effort to reduce greenhouse gases. In June, the county received a $100,000 grant to fund a new microgrid that will distribute energy to several government buildings. The county plans to reduce greenhouse gas emissions by 80% by 2027 and 100% by 2035.
The Sierra Club is asking that only Montgomery County residents sign the support petition.