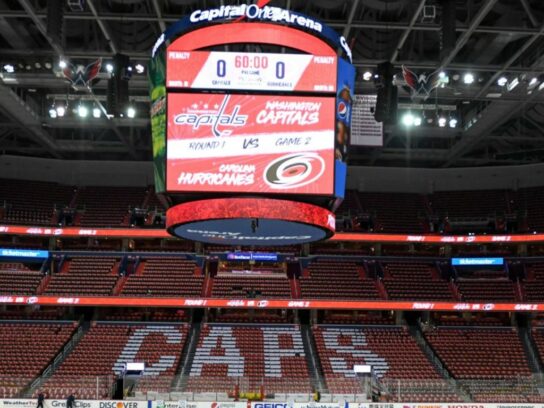 Effective immediately, Washington D.C. has approved increased capacity limits for Capital One Arena, Nationals Park, and Audi Field.
The Monumental Sports & Entertainment's waiver was approved Friday granting D.C. sports venues the opportunity to welcome fans at a reduced capacity.
Capital One Arena — home of the Washington Wizards and Washington Capitals — will open at 10 percent capacity, hosting around 2,100 fans. Nationals Park will be allowed to operate at 25 percent capacity — around 10,000 fans — an increase from the 5,000 fans that were allowed to attend opening day.
Similarly, Audi Field — home of DC United —will be able to host fans at 25 percent capacity which is about 5,000 fans.
All venues will adhere to CDC guidelines and precautions including, social distancing, sanitization, and the use of facial coverings.
Other health provisions include limiting alcohol sales during games. Attendees will have a two-drink limit for all alcohol purchases.
The Capitals' next home game is Tuesday against the Philadelphia Flyers. It would be the Caps' first home game with fans since March 4, 2020.
NEWS: D.C. has approved waivers to host fans at Capital One Arena for Wizards and Capitals games, effective immediately.

Additionally, the Nationals and D.C. United will now be able to host fans at 25% capacity at Nats Park and Audi Field. Story tk. pic.twitter.com/ADikZVRI5Q

— Michael Brice-Saddler (@TheArtist_MBS) April 9, 2021
Excited to welcome @Capitals and @WashWizards fans back to @CapitalOneArena! Thank you @MayorBowser, DC Health and DC HSEMA for granting our waiver, which allows for 10% capacity / 2,100 fans. https://t.co/WTZUZgeap4

— Ted Leonsis (@TedLeonsis) April 9, 2021
We are grateful to @MayorBowser, DC Health & DC HSEMA for granting us a waiver to welcome Caps and Wizards fans back to Capital One Arena. The waiver is for a 10% capacity / 2,100 fans. We are finalizing details and will release further announcements on Monday, April 12th

— Monica Dixon (@MonicaDixon_MSE) April 9, 2021
Day made! Can't wait to take Louie to his first game 🤍🏒🙌🏼 https://t.co/2Yx4GjYkPj

— Paige Dowd (@paigedowder) April 9, 2021