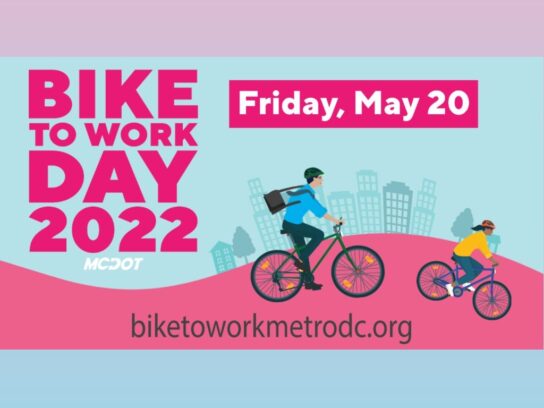 The County Department of Transportation (MCDOT) encourages commuters to cycle to work on Friday, May 20 for Bike to Work Day 2022.
Held on the third Friday of May, Bike to Work Day is a nationwide event celebrating a fun and healthy way to get to work. Riders in Montgomery County can stop at one of several pit stops located throughout the area, sponsored by MCDOT.
Commuters can listen to music, enjoy refreshments, and visit local vendor displays during varying times at these pit stops. Free raffle prizes will be given throughout the morning, ending with a grand raffle prize of two new bicycles. The raffles will take place at each MCDOT-sponsored pit stop on May 20 only.
Teleworkers and leisure riders are encouraged to join in on the fun. Registration is available online for free.
MCDOT-sponsored pit stop locations include:
Bethesda: 6:30 – 8:30 a.m. Corner of Woodmont and Bethesda Avenues, near the Capital Crescent Trail
North Bethesda: 6:30 – 8:30 a.m. Pike & Rose, west of 935 Prose Street parking lot
Rockville/Fallsgrove: 6:30 – 8:30 a.m. Fallsgrove Village Center, 14941 Shady Grove Road (Smoothie King parking lot)
Friendship Heights: 6:30 – 9 a.m. Wisconsin Place Plaza, 5311 Friendship Boulevard (adjacent to the Metro Station)
Rockville Town Center: 6:30 – 9 a.m. Dawson's Market, 225 N. Washington Street (Rockville Town Square Plaza)
Silver Spring: 6:30 – 9 a.m. Veteran's Plaza, 8525 Fenton Street
.@BikeToWorkDay is tomorrow, May 20th! Riders can stop by the Silver Spring Pit Stop at Veterans Plaza for refreshments, music, local vendors, and raffle prizes! https://t.co/myUKnFsImB pic.twitter.com/9in0XcyY8v

— Silver Spring Urban District (@SilverSpringMD) May 19, 2022