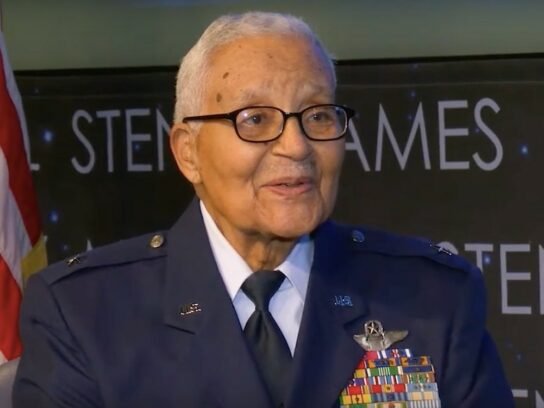 Brigadier General Charles McGee of the Tuskegee Airmen turns 101 on Monday.
On Sunday, members of the community honored McGee with a celebratory parade. Cars decorated with signs drove by his home and honked their horns. The festivities continued with a military flyover using the aircraft that McGee flew in World War II.
The Bethesda resident served as a fighter pilot for over 30 years and was a member of the Tuskegee Airmen–the first black military aviators in the U.S. Army Air Corps. McGee is one of the last living members of the Tuskegee Airmen.
McGee served in World War II, the Korean War, and the Vietnam war, flying over 400 combat missions, one of the highest by any Air Force fighter pilot.
The Tuskegee Airmen served their country in a time when the United States was segregated.
"The attitude for me," McGee told MCM in February, "that I received from my parents, was that we're American. Why was there always an emphasis that, because of color, we were seen as black first and not [American]?"
The Tuskegee Airmen are renowned in history not only for their success in combat but also for their impact on the racial changes in the United States military.
Earlier this year, McGee was promoted to brigadier general by President Trump on Feb. 4, 2020. That evening, McGee attended the State of the Union address as a guest and was recognized by Trump.
To young people, McGee always offers his four P's to success: perceive, prepare, perform, and persevere.
"Dream your dreams, find your talent, but prepare," McGee said. "Get a good education and develop those talents that will be useful for a good career and to support our country."
Happy 101st birthday to General Charles McGee, one of the last living Tuskegee Airmen. https://t.co/hj3Dc5V7MH

— MyMCMedia (@mymcmedia) December 7, 2020
Previous Post
Former Tuskegee Airman, Bethesda Resident Continues Dream Week with NASA Honor
Oldest Living Tuskegee Airman McGee Honored by County Council