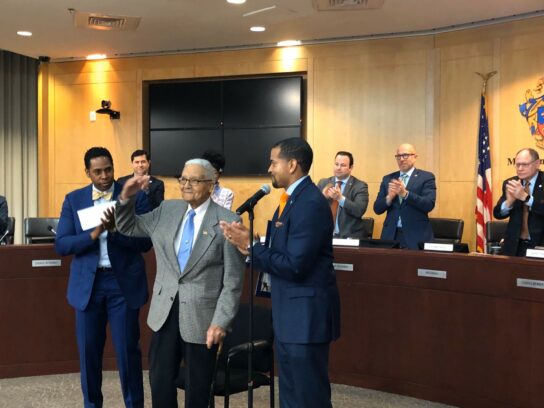 Montgomery County councilmembers Will Jawando and Craig Rice presented former Tuskegee Airman Charles McGee with a proclamation in his honor Tuesday during a council session. 
#HappeningNow: Councilmembers @willjawando and @RicePolitics are recognizing Mr. Charles McGee, the oldest living member of Tuskegee Airmen, and presenting a proclamation in honor of his legacy. pic.twitter.com/hyZ8dT3oJi

— Montgomery Council (@MoCoCouncilMD) February 25, 2020
The honorary brigadier general lives in Bethesda, and is the oldest living member of the Tuskegee Airmen, who were the first black pilots in the U.S. Armed Forces. Jawando said McGee demonstrated excellence over the course of his life and is a role model.
"I've got to meet the man the myth and the legend and I can tell you every one of those people has had the highest integrity has been a model for me," Jawando said. "You continue to inspire me sir, so I just want to say there's nothing we could say here today to honor you enough and thank you for what you went through on behalf of our country and so thank you very much."
Rice spoke of his appreciation for the 100-year-old veteran, too.
"You forged the way and made it possible for young men like me to dream about doing the same things that you did," he said. "You forged that pathway… and opened up so many opportunities."
Then, Jawando and Rice took turns reading the proclamation honoring McGee. The recognized his honorary promotion to brigadier general, his distinction in being the oldest living member of the Tuskegee Airmen, his 100th birthday in December, and his being a resident of Montgomery County. 
McGee thanked the council for the recognition. 
"Thank you isn't enough but it's the words we use always. Life has been a blessing for me. I often ask why me, how me, and I have not found the answer," he said. He urged everyone to encourage young people and lead them to success.
"We need to stop telling them they can't do something and lead them in the direction that will allow us very shortly to put a woman on the moon and somebody on mars," McGee said.
Brigadier General Charles McGee tells the Council, "I am grateful to stand for so many." #BlackHistoryMonth Video of today's proclamation presentation to follow. pic.twitter.com/eiW6sEjHvl

— Montgomery Council (@MoCoCouncilMD) February 25, 2020