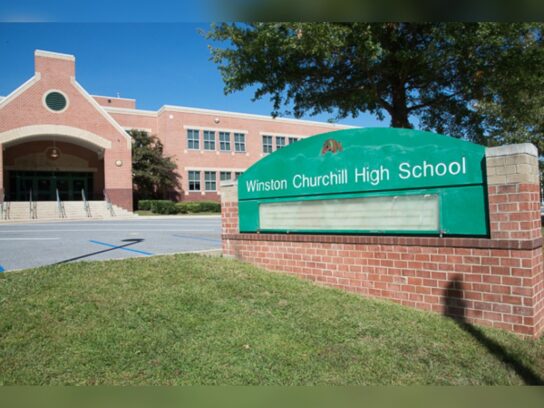 Winston Churchill High School in Potomac has scrapped its "No Zero Policy" on tasks and assessments after realizing it did not comply with Montgomery County Public Schools' grading and reporting policy.
The "No Zero Policy" prohibited teachers from giving students zeros on assignments even if no work was done. This was different than the county-wide policy that states that if a middle or high school student takes a test and gets every question wrong they will get a 50 percent and not a zero, but if they do no work or show no effort on an assignment or task, the teacher can assign a zero.
Churchill principal Brandice C. Heckert sent an email to parents Thursday afternoon to explain their reasoning for retracting the new policy.
Heckert mentioned the intent of Churchill's policy "moving away from giving zeros was grounded in our efforts to ensure that we have a collective understanding of providing all students with multiple opportunities to assess their learning and understanding of concepts."
Heckert explains further how the policy was "well intended" but ultimately did not comply with MCPS policy on grading. She added that the school administration hopes to work together to set expectations with teachers on how to better assess students who are not putting in effort and completing basic requirements on tasks and assignments.
MCPS's policy on trying to avoid giving zeros is nothing new. The county grading system uses an "E" instead of an "F" for a failing grade and Churchill's policy had a similar goal in hoping to make students not feel defeated.
Read Full Letter From Churchill Principal
Dear Winston Churchill Parents, Guardians, and Staff,

I am writing to provide an update regarding the implementation of the Montgomery County Public Schools (MCPS) grading and reporting policy at Winston Churchill High School. As I previously shared, school administration, in collaboration with teacher leaders and elected faculty representatives, met over the summer to review the MCPS grading and reporting policy and our current implementation of the policy. We engaged in discussions about how we currently assess students, including discussions about the assignment of zeros and the justification for assigning such a grade. Our intention in moving away from giving zeros was grounded in our efforts to ensure that we have a collective understanding of providing all students with multiple opportunities to assess their learning and understanding of concepts.

Although well intended in these discussions, the implementation of a "no zero" policy is not in compliance with the MCPS grading and reporting policy which states that teachers may assign zeros if it is determined that a student does no work on a task/assessment or did not attempt to meet the basic requirements of the task/assessment. Our next steps will be to work together as a leadership team and school community to explicitly define the basic requirements of tasks and assessments and the expectations for departments and teachers to develop appropriate and supportive responses when a student does not initially attempt to meet the basic requirements. These definitions will be formed through the collaborative efforts of our leadership team with input from our staff and community.

We want to ensure that all of our practices are aligned with Board of Education policy and are implemented with fidelity throughout our instructional program. Please let me know if you have any questions or concerns. Thank you for your continued support.

Brandice C. Heckert
Principal
Winston Churchill High School