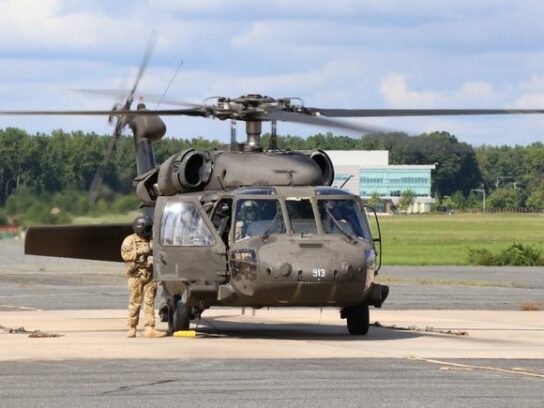 Maryland Gov. Larry Hogan sent the Maryland Helicopter Aquatic Rescue Team (MD-HART) to North Carolina Thursday to help with Hurricane Dorian rescues and relief, he said in a press release. 
Today I authorized the deployment of members of the Maryland Helicopter Aquatic Rescue Team (MD-HART) of the @MDNG to North Carolina to assist in potential rescues from the effects of Hurricane Dorian. pic.twitter.com/SzldRUsUPv

— Governor Larry Hogan (@GovLarryHogan) September 5, 2019
Hurricane Dorian hit Cape Hatteras, North Carolina early Friday, according to The Weather Channel. Maximum sustained winds were as high as 90 mph, and streets were flooded in several North Carolina counties. 
"As we continue to track Hurricane Dorian, we are committed to providing needed resources and assistance to our neighbors to the south, while taking every precaution ahead of the storm's potential impact on the Lower Shore and St. Mary's County," Hogan said. 
The MD-HART sent two Blackhawk helicopters, four members of the Maryland Army National Guard, and two divers from Maryland county fire departments. The team is trained in disaster assessment and rescuing people in flood zones from vehicles, windows, doors, rooftops, trees and other confined areas.
MD-HART plans on being in North Carolina for 14 days, but that may change based on how much damage Dorian causes. 
"They'll stay down there as long as we need them," said Quentin Banks, a spokesperson for the Maryland Military Department in Baltimore.
Marylanders may feel the effects of Hurricane Dorian, too. The National Weather Service issued a Tropical Storm Warning on Thursday for Dorchester, St. Mary's, Somerset, Wicomico and Worcester counties. In his press release, Gov. Hogan said to "prepare for strong winds and flooding." On Friday, the outer bands of the storm neared Maryland's coastline in Ocean City. The warning is still in effect. 
In 2018, MD-HART went to North Carolina for Hurricane Florence relief.