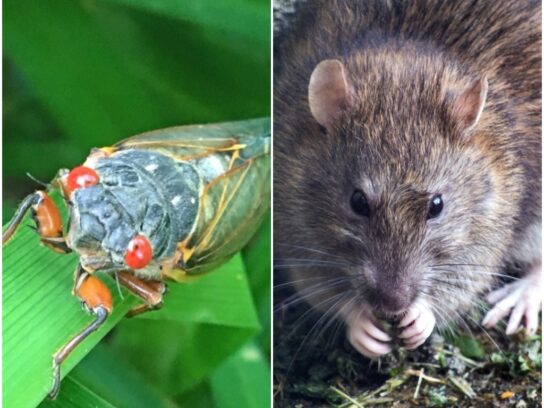 With cicadas may come rats, Montgomery County health officials caution residents.
Officials urge residents to take measures to stop an increase in the rat population as Brood X cicadas emerge, after health inspectors noticed a large increase in rat complaints during the last invasion 17 years ago.
In June 2004, during the last Brood X invasion, Montgomery County received 436 rat-related complaints, according to a release from the county. There were 60 rat complaints total in 2003, and 31 total in 2020.
Inspectors believe that cicadas are a popular food source for rats and that rats look for other food sources after the cicadas are gone.
Central Maryland is the epicenter for the cicada summer and Brood X.
The county strongly encourages home and property owners to make sure they do not provide food sources or hiding spots for rats. The county urges the following:
Do not put food out for stray animals, use a catch-tray under bird feeders and keep all pet food indoors and in tightly sealed containers.

Get rid of clutter on your property. Clutter can provide places for rats to hide, sleep, nest and reproduce. Control weeds and shrubs so that rats cannot burrow under bushes and plants.

Manage your garbage by bringing garbage cans and bags to the curb as close to pick up as possible. Leaving them out overnight can invite rats. Make sure that you have enough trash cans to store trash between weekly pick-ups and use hard, plastic or metal cans with tight-fitting lids.
Residents should call Licensure & Regulatory Services at 240-777-3986 if they suspect rats on their property or on an adjacent property, or call 311. If inspectors identify rat-related issues, like an infestation, the property owner or tenant will get a written notice of the findings, which will also include what is required to fix the problem. The county notes that inspectors do not bait or provide bait. Montgomery County says rats carry disease and can cause a public health problem when they live near people.
The statement cites county code chapter 39: "it shall be unlawful for anyone to allow their property to be infested with rats or to be in such condition as to contribute to an existing or potential rat infestation."
🆕 The 2021 Brood X cicadas are emerging in Montgomery County, and @MoCoDHHS officials are urging residents to take steps to prevent an increase in the rat population.
Details ➡ https://t.co/qm2mVoIKHT.@311MC311 @MyGreenMC pic.twitter.com/cZjPCNsyum

— Montgomery County MD (@MontgomeryCoMD) May 13, 2021