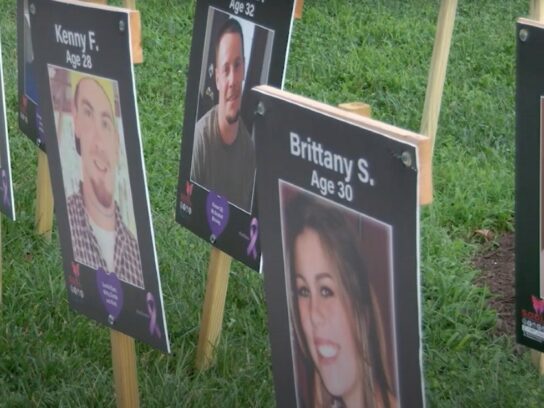 Multicolored fentanyl pills that are designed to tempt young people has been found in Maryland. Called rainbow fentanyl, the drugs look like candy but are so potent that teens have overdosed and died from them, according to the Montgomery County Department of Health and Human Services.
The U.S. Drug Enforcement Administration calls the presence of the highly-addictive pills "an alarming trend." In August, the DEA seized these and other forms of fentanyl in 18 states.
"Rainbow fentanyl—fentanyl pills and powder that come in a variety of bright colors, shapes, and sizes—is a deliberate effort by drug traffickers to drive addiction amongst kids and young adults," said DEA Administrator Anne Milgram in a news release.
Rainbow fentanyl comes in many forms, including pills, powders and blocks that look like sidewalk chalk.
Fentanyl is a synthetic opioid that is 50 times more potent than heroin and 100 times more potent than morphine, according to the DEA.  Just two milligrams of fentanyl, which is equal to 10-15 grains of table salt, is considered a lethal dose.
According to the Centers for Disease Control, 107,622 Americans died of drug overdoses in 2021, with 66 percent of those deaths related to synthetic opioids like fentanyl.  Drug poisonings are the leading killer of Americans between the ages of 18 and 45.
Fentanyl available in the United States primarily is supplied by two criminal drug networks, the Sinaloa Cartel and the Jalisco New Generation Cartel (CJNG), according to the DEA.
Rainbow fentanyl has been seized in Maryland. It looks like candy/sweet tarts, and there have been reports of young teens dying of overdose in the US because of this. More info > https://t.co/EAE7d2ekyY pic.twitter.com/JP5EKGet6z

— Montgomery County DHHS (@MoCoDHHS) September 21, 2022