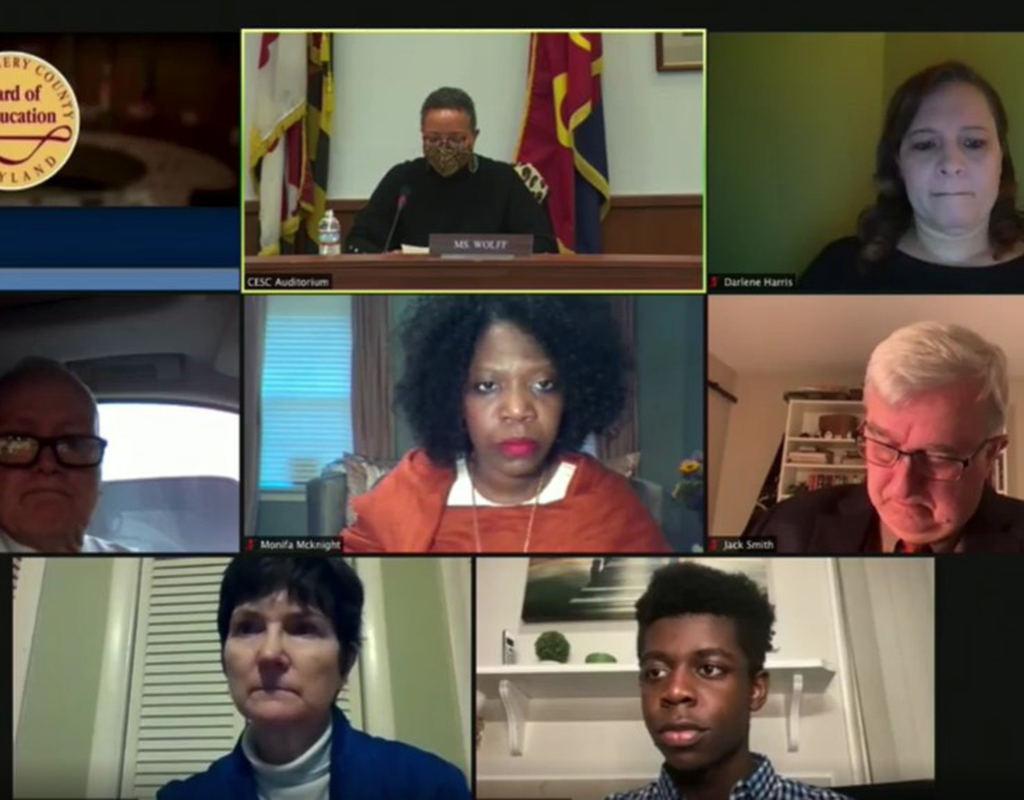 Community Members Debate Police Removal From Schools
The Montgomery County Board of Education (BOE) held a public hearing Tuesday in which community members shared pre-recorded statements debating the continued presence of police in schools, otherwise known as the School Resource Officer (SRO) program.
The vast majority of speakers, 24 out of 31, emphatically called for the district to terminate the SRO program citing its inefficacy and harmfulness. They requested that the Board instead direct resources to mental health services and school support staff.
"We need to stop trying to make police something that they're not," said Lauren Payne of Richmond High School and president of Young People for Progress. "They're not there to be mentors. They're not there to help students. They're there to police students, and that's not what students across this county need."
All 12 student speakers advocated for full police removal from schools.
According to the Montgomery County Council, police currently assign 23 police officers to work as school resource officers in Montgomery County Public Schools. The public hearing was called in response to Bill 7-21, legislation introduced in early February, which would continue the SRO program with enhanced training and the consent of MCPS.
Multiple speakers began their testimony by citing data showing that the SRO program disproportionately targets and arrests Black and Brown students and does not increase feelings of safety and well-being within the school.
Catherine Contreras, a senior at Thomas S. Wootton High School, said that students with disabilities also suffer increased surveillance. She cited data from the U.S. Department of Education Civil Rights Office, which showed that Maryland students with disabilities have arrest rates far higher than their non-disabled peers.
Diana Conway, president of the Montgomery County Women's Democratic Club, said she was especially troubled by the out-of-school suspensions that are often coupled with arrests as they perpetuate the school-to-prison pipeline.
"Such harsh discipline interrupts learning and is associated with academic failures, dropping out and more behavioral issues, said Conway. "Moreover, arrested students are typically referred to the Department of Juvenile Services where Black students are less likely to have their cases resolved informally, and instead are put at risk of future involvement in the criminal justice system and irreparable lifelong consequences."
While most speakers argued for eliminating police from schools, some advocated instead for updating the SRO program with additional bias training and increased transparency, noting safety concerns and positive relationships with individual SROs.
MCPS parent and Walter Johnson High School PTSA president Debby Orsak shared one such anecdote. She said her school's SRO goes above and beyond and has built positive relationships with students. Orsak said  she feels more confident knowing the officer is on duty,
However, students like Abby Kusmin of Springbrook High School, reminded listeners to rely on data over personal anecdotes. Although the SRO program was started in response to school shootings, Kusmin and other speakers said that the data doesn't prove the program has effectively lowered crime or mitigated safety threats.
Almost all the testimonials requested that, instead of policing students, resources go towards hiring more mental health professionals or trainings to enable teachers and school staff to respond to situations that SROs would normally handle.
Stephanie Joseph, an MCPS graduate parent and juvenile public defender, cited a recent study by Hamline University professor Jillian Peterson, which found that the best way to prevent school shootings is to provide mental health specialists and to train all staff in suicide prevention, crisis intervention and de-escalation.
"The best way to protect our students is to strengthen our mental health services in schools," Joseph said.
BOE held a second hearing on March 4 to continue sharing public testimony on the SRO program.