UPDATED Sept. 6 at 9:45 a.m. 
No one has been arrested in connection with this crash, according to Montgomery County Police.
"This is an ongoing investigation and will take some time. No charges have been filed yet," a police spokesperson wrote in an email Tuesday morning.
_______________________________________
Hundreds of family, friends and fellow bicyclists joined in a memorial service for Sarah Langenkamp Monday at the spot where she was killed on River Road in Bethesda while riding her bicycle Aug. 25.
Together, they reminisced, vowed to make bicycling safer and chained a ghost bike to a pole near the crash site.
According to Montgomery County police, Langenkamp and the driver of a red 2014 Volvo D3 flatbed truck were traveling east on River Road. Langenkamp was in the bicycle lane when the driver of the Volvo turned right into a parking lot at 5244 River Road and struck Langenkamp, running her over.
"She was killed in a bike lane that was supposed to be safe," her husband, Dan Langenkamp, said. "I am not calling this an accident. It was a crash, and crashes rob their families of so much more than the individual."
Choking back tears, he talked about a future "that was ripped from our boys, from the world. I don't know how I'll continue." He added, "Mother's Day for us will be another small funeral."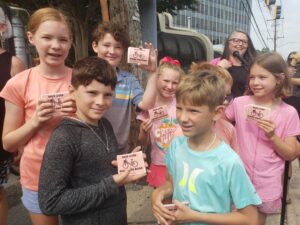 As a member of the foreign service, Sarah Langenkamp served in Haiti, Uganda, Western Africa, Cote D'Ivorie, Iraq, and most recently, Ukraine.
"We were evacuated" from the Ukraine for safety reasons, said Dan Langenkamp. Then, one month later "in the streets of Bethesda," his wife was killed.
While attending the memorial, a participant found the diamond from Sarah Langenkamp's engagement ring that she wore as a pendant. When he realized what it was, Dan Langenkamp appreciatively rolled it around in his hand and said quietly, "I searched for that."
Langenkamp, 42, is one of about 30 cyclists and pedestrians killed in Montgomery County so far this year.
"Now we all have this great hole in our hearts," summed up her 10-year-old son Oliver Langenkamp. During the speeches, Oliver, and his eight-year-old brother, Axel, handed out stickers that read, "Save Lives. Share the Road."
Sara Langenkamp' s husband and one son at memorial @mymcmedia pic.twitter.com/y0phGXWdcT

— suzanne pollak (@SuzannePollak) September 5, 2022
Thank you all who attended the memorial for Sarah Langenkamp. pic.twitter.com/hCAdt9UE7o

— Montgomery County Families for Safe Streets (@MoCoFSS) September 5, 2022
Related Post
Family of Bethesda Woman Killed While Cycling Raising Funds for Bike Safety