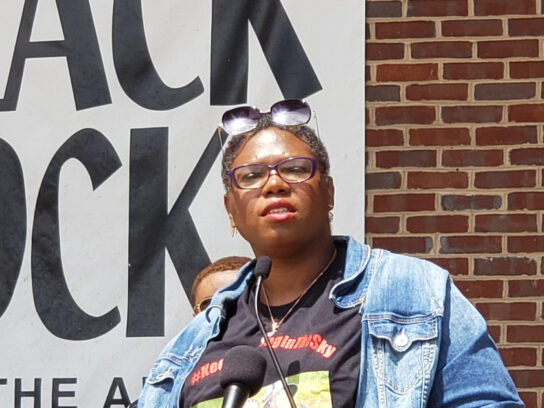 "Our children all across the world are falling through the cracks. We don't have a tomorrow without our children. There is no tomorrow without them," said Alexis Jones, mother of Jailyn Jones, who was found dead in a wooded area about two weeks after he was reported missing.
Jones was 17 and a senior at Northwest High School in Germantown when he was killed in January. His death remains unsolved. Saturday during a Rally to Protect our Neighborhoods at BlackRock Center for the Arts in Germantown, his mother and several Montgomery County officials pleaded for anyone with information to come forward.
"There is more than one person out in this community that knows," State's Attorney for Montgomery County John McCarthy said. "Please come forward."
"Although Jailyn has passed, and he was murdered, I still believe in the country," Jones said. "We should value human life, take pride in human life."
Jones believes that years of bullying ended up with her son being killed. His friends told her so, and she sees it now. McCarthy agreed. "Bullying underlies all of this. We have a bullying problem in our schools.
Jones' friend Jazmine W. explained, "We were bullied. We were targeted, and we  made the schools aware of it, constantly," adding, "We feel we got no results." Looking out at those standing outside BlackRock Center, she said, "I want you all to show up. You have to show up everyday."
Another friend of Jones agreed. "Don't give up. We will make a change one day. We will."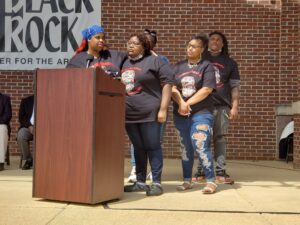 His best friend, Marco M., was too emotional to speak, but stood close by as his friends spoke about him. "He was like a brother to me," said Destiny J. "There's not a day that goes by that I don't think about him. Almost everything reminds me of him."
An emotional Councilmember Craig Rice said, "It is not okay for a mother to lose their child of 17 years and not have justice. It is not okay for a child to lose their life."
The young man "had things to offer this world and the community," Rice said. "There is so much promise there, and when lives are cut short, we suffer."
Rice urged anyone with information to speak out."It is not okay to kill anybody in this community, and it is not okay to be silent about it. Someone knows what happened. We need to break this culture that somehow snitching is a bad thing."
Councilmember Sidney Katz also spoke. "We need to make sure that no family member is going to go through this again." He added, "We stand shoulder to shoulder to make certain this will never happen again."
Added Executive Marc Elrich, "I want justice, but I want to stop producing murderers." He said that Montgomery County police are being "retrained" to handle situations better and help return trust between themselves and the community.
Alexis Jones McDaniel, mother of 17 year old murder victim Jailyn Jones, urged the crowd to be strong together and speak out against bullying and also come forward to get justice for her son. @mymcmedia pic.twitter.com/WBifvICPG3

— suzanne pollak (@SuzannePollak) April 30, 2022