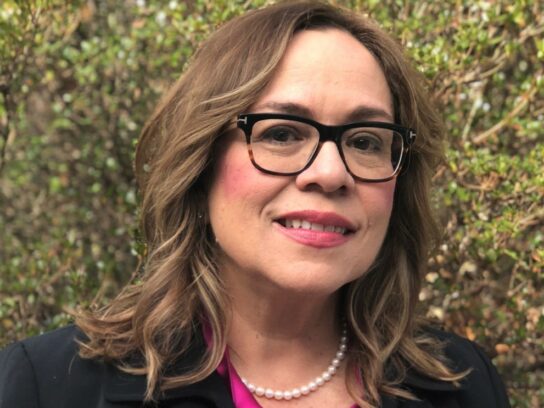 La Concejal Nancy Navarro fue honrada el miércoles por el Centro Latinoamericano de la Juventud (LAYC) por su arduo trabajo y liderazgo en temas que incluyen inmigración, salud, derechos civiles, educación, equidad racial y justicia social.
LAYC es una organización con sede en Washington D.C. enfocada en empoderar a una población diversa de jóvenes, con el fin de lograr una transición exitosa a la edad adulta a través de programas multiculturales, integrales e innovadores que aborden las necesidades de los jóvenes, según el condado.
"Es un gran honor ser reconocida por LAYC por mi servicio público", dijo la concejal Navarro, quien preside el Comité de Política Fiscal y Operaciones Gubernamentales del Concejo y se desempeñó como presidenta del Concejo en 2013 y 2019. "Aunque no podemos reunirnos en persona para celebrar la misión de LAYC como agencia multicultural y multi-servicio, que atiende a jóvenes en diferentes jurisdicciones, sigo aplaudiendo y admirando su trabajo. Ahora más que nunca, nuestra juventud debe estar debidamente equipada para navegar por el paisaje cambiante de nuestro mundo y LAYC juega un papel fundamental en su preparación".
It is a great honor to be recognized by this amazing organization that serves the youth in our community- now more than ever we need to support their efforts! #youth #community https://t.co/S67exmvH2G

— Nancy Navarro (@nancy_navarro) May 7, 2020
La Concejal Navarro también es homenajeada de la Gala "Our Youth Matter" de LAYC que fue cancelada debido a la crisis del coronavirus. Como presidenta del Concejo el año pasado, la Concejal Navarro dirigió muchas iniciativas legislativas, incluida la promulgación de la Ley de equidad racial y justicia social, la Iniciativa de educación y atención temprana del condado y una nueva plataforma de desarrollo económico del condado, según el condado.
Navarro ha servido en el Comité de Educación y Cultura desde 2013 y es presidenta del Comité de Operaciones Gubernamentales y Política Fiscal. La Concejal Navarro también fue nombrada por el presidente Barack Obama para la Comisión de Excelencia Educativa para Hispanos del Presidente.
Navarro fue elegida por primera vez como representante del Distrito 4 en el Concejo del Condado de Montgomery en mayo de 2009 y luego reelegida en 2010, 2014 y 2018, según el condado.