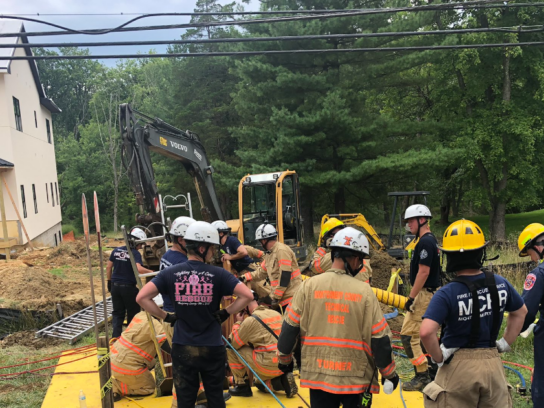 Three construction workers were trapped in a trench following a dirt collapse in Rockville on Thursday. 
At approximately 2 p.m., Montgomery County Fire and Rescue Service (MCFRS) responded to the 9600 block of Veirs Drive for the report of several people trapped in a trench. 
While two of the workers were removed quickly, emergency responders worked for nearly an hour to rescue the remaining individual who was partially buried below the waist.
The trench was 6 feet deep, 3 feet wide, and about 10 feet long, according to MCFRS Chief Spokesperson Pete Piringer. 
A paramedic remained near the partially buried individual and monitored his condition, Piringer said. Emergency responders were also able to provide the individual with oxygen and iv fluids to keep him stable. 
Piringer referred to the rescue process as  "slow" and "deliberate." At approximately 3 p.m., the construction worker was removed from the trench: 
— Pete Piringer (@mcfrsPIO) July 21, 2022
Paramedics then transferred the man to a Maryland State Police medevac helicopter that landed at nearby Lakewood Country Club. Piringer said the construction worker was airlifted to a local trauma center to receive treatment for traumatic injuries and heat exposure.
@mdsp Trooper 2 Medevac helicopter departing Lakewood country club @MontgomeryCoMD w/ trauma patient from Rockville trench rescue (patient on board) pic.twitter.com/8KUrrkhrTt

— Pete Piringer (@mcfrsPIO) July 21, 2022