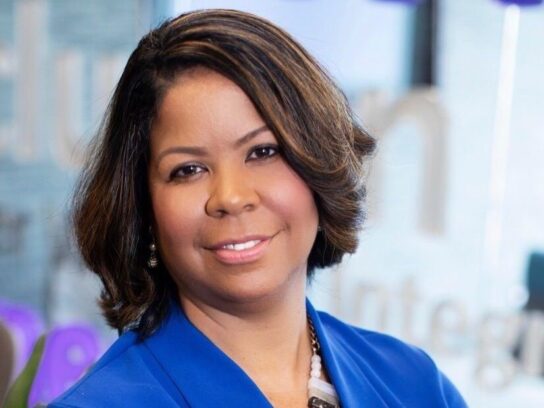 Michael Amilcar was the featured guest of Montgomery Community Media's September Small Business Network (SBN) session. The event took place on September 19 at our studios in Rockville.
The series of monthly morning sessions facilitated by Kelly Leonard address topics of interest to small business owners in Montgomery County.
September topic:  "A Seat at the Table: Reclaiming Your Power and Telling Your Story."
Participants will learn to:
Pay attention. Be mindful of what is happening internally and externally to help you visualize your future and your right to occupy a seat at the table.
Acknowledge your assumptions about who is allowed to have a seat at the table and what your voice needs to be when you are there.
Recall what you've been taught about leadership and understand how that has shaped your perspective.
Always seek different perspectives to find gaps in your thinking or representation.
Examine your options and make a decision on the actions you will take.
Watch the presentation below:
Michael Leslie Amilcar is CEO of Silver Spring-based Cook Ross. She joined the company in 2007, and served as managing partner, overseeing the strategic direction and day-to-day operations for over five years. Under her leadership, Cook Ross has grown dramatically building upon an almost 30-year legacy of organizational transformation work.
Currently, the company has over 40 full-time employees and a highly experienced consultant network dispersed across the globe. Cook Ross partners with Fortune 500 companies to create inclusive leadership and transform cultures. Wife, mom, entrepreneur, activist, adoptive family advocate, and self-proclaimed change agent, Michael hasn't met a challenge she felt could not be solved with the right people working together. She is proud to be at the helm of Cook Ross, working with a talented and passionate team, and partnering with courageous and committed clients.
Photos:
The Small Business Networking Series is held at Montgomery Community Media (MCM) studios in Rockville and typically begin at 8 a.m. and finish promptly at 9:30 a.m.
The Montgomery County Small Business Series offers the opportunity to invigorate and innovate your business with insight and information from regional business leaders' presentations and question and answer sessions. Seminars and networking are designed to support and enhance the success of your business in Montgomery County.
Montgomery Community Media is located at 7548 Standish Place in Rockville, walking distance from the Shady Grove Metro station. Free parking is available.
You can view previous speakers and events, here.
SBN is Brought To You By