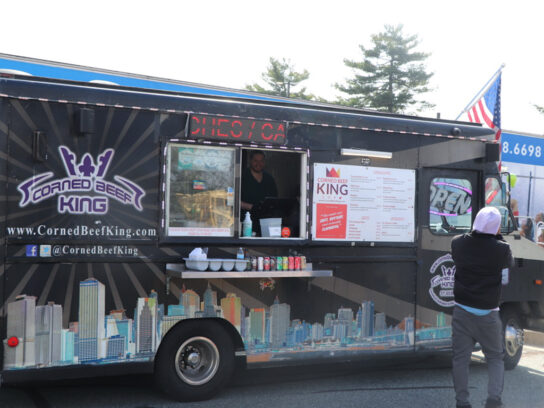 It's a St. Patrick's Day like no other. Bars and restaurants are closed, but — on a positive note— restaurants can still provide take out food.
The Corned Beef King food truck visited Olney Tuesday from 11:30 a.m. to 8 p.m. to bring Irish corned beef and Reuben sandwiches to the locals who are restricted from celebrating the holiday because of the coronavirus pandemic.
Several people stopped by the food truck which was parked outside of the One Life Fitness trailer, located at 17821 Georgia Avenue. One local who visited the truck was Peter Woods, an employee at The Backyard Naturalist, a wild bird feeding supply store and gift shop located on Georgia Avenue in Olney.
Woods said business at The Backyard Naturalist is proceeding, but now employees have started a curbside pickup, for customers to pickup their bird feed supplies without having to get out of their vehicles.
Jon Rossler, the owner of Corned Beef King, is worried about the economic effect of the coronavirus pandemic, but he actually expects his business to do well on St. Patrick's Day since the bars are closed.
In addition to its food truck, the Corned Beef King also has a restaurant located on the Rockville Pike. Per Gov. Larry Hogan's executive order, the restaurant on the pike is just operating to distribute takeout meals.