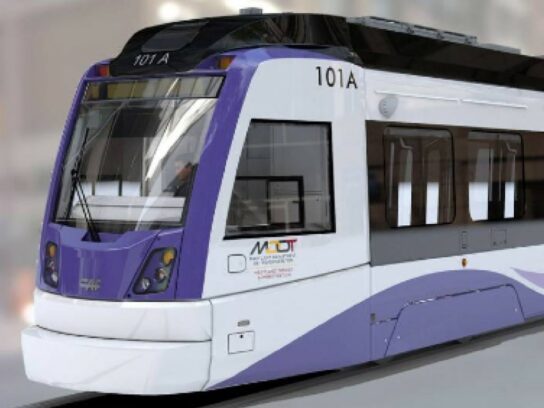 Montgomery County Councilmembers adamantly told representatives from the Maryland Department of Transportation that the Purple Line must be completed for the economic health of the area and so the county can meet its climate control goals.
MDOT administrator Matt Pollack, Purple Line project director, replied, "We will take this project forward." However, said Kevin Quinn, MDOT administrator, there may be "stumbling blocks" along the way.
The Circuit Court of Baltimore City ruled last week that the companies building the Purple Line may walk away over disputes with the state about unpaid cost overruns and delays, thereby leaving the future of the light rail line in jeopardy.
The council has been "unanimously committed to the Purple Line for quite a long time. It's central to meeting our economic commitments. It is central to meeting our climate commitments," Council Vice President Tom Hucker said during the Sept. 15 council meeting.
Quinn said that within the next 30 days, his department will know which sections of work will continue and which will have to be delayed. Within four to six months, MDOT should know the long-term strategy, he said.
The state needs to decide whether it will appeal the court decision, what construction can continue and how it will handle the remainder of the project, Quinn said. It may remain a public-private partnership or a private contractor could take over. "There are a number of contractors that want to take on this work," many of which are based in Maryland, Quinn said.
Councilmembers urged Gov. Larry Hogan to speak publicly about his commitment to the light rail project, which connects parts of Montgomery County with parts of Prince George's County and to the MARC train.
Councilmember Nancy Navarro wanted to know "how he is going to own this issue and how we are going to come out on the other side." Added Councilmember Hans Riemer, "The Governor is not a passenger on this train. He is driving this train."
Councilmember Evan Glass urged MDOT not to impede pedestrian and traffic access and safety during the transition.
"Safety is priority number one for us," Quinn said.
Hucker tried to get MDOT officials to promise that the current project workers be reinstated when a new contractor takes over, but Quinn said he was not able to do so at this time but did say that with the workers knowledge of the project, they should have a good chance.