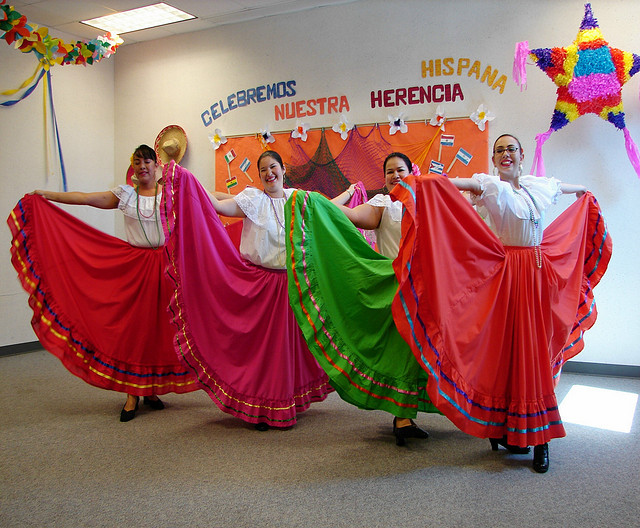 Montgomery Celebra el Mes de la Herencia Hispana
El Mes de la Herencia Hispana empieza el 15 de Septiembre hasta el 15 de Octubre cada año. Es un periodo para reconocer y celebrar las contribuciones, cultura e historia de la comunidad Latinoamericana.
Durante este mes se celebra a escala nacional con festivales, muestras de arte, conferencias, reuniones comunitarias, y mucho más; sin embargo, este año debido a la pandemia Covid-19 las celebraciones se han transformado en su mayoría a eventos virtuales.
Por ejemplo, las Escuelas Públicas del Condado de Montgomery (MCPS) lanzaron una campaña para que los estudiantes, que son en su mayoría hispanos y representan el 32.4% de la población estudiantil, envíen sus fotografías representando lo mejor de sus raíces latinoamericanas.
Así mismo, La Junta de Educación del Condado de Montgomery declaró oficialmente, a tráves de una resolución, este mes como el Mes de la Herencia Hispana en MCPS.
Today @mocoboe declared the month of September 15 to October 15, 2020, to be Hispanic Heritage Month
in Montgomery County Public Schools. Read the resolution: https://t.co/545FTpW5R4 pic.twitter.com/4brrfQ9lR0

— MCPS (@MCPS) August 25, 2020
Por otro lado, están programados algunos eventos virtuales con la participación de los líderes y políticos hispanos en el condado.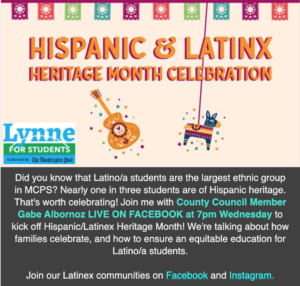 Cada año, el Concejo del Condado de Montgomery, celebra el Mes de la Herencia Hispana con un gran evento público donde se destacan los aportes de los hispanos en el condado, una iniciativa liderada por la primer mujer hispana en ser parte del Concejo, la Concejal Nancy Navarro. Este año, a causa de la pandemia, se planea una celebración un poco más pequeña el 6 de octubre.
El mes también celebra los días de independencia de varios países latinoamericanos, incluyendo Costa Rica, El Salvador, Guatemala, Honduras, y Nicaragua el 15 de septiembre, México el 16 de Septiembre, y Chile el 18 de Septiembre.
Según la Oficina del Censo los hispanos en Estados Unidos representan 60.6 millones de la población en el país, desde el 1 de julio de 2019, lo que significa que las personas de origen hispano son la mayor minoría étnica o racial. Los hispanos constituían el 18.5% de la población total del país.