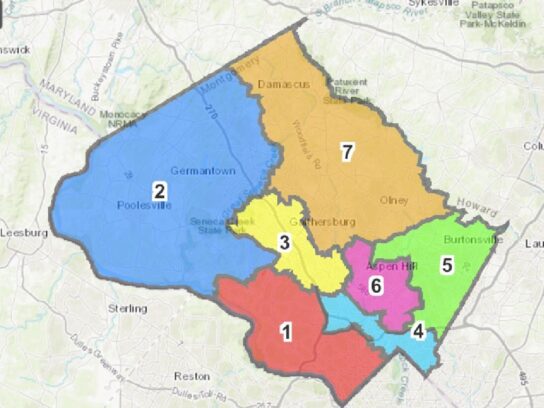 After making several changes, Montgomery County Council Tuesday approved a new county council district map that increases the number of council seats to seven while retaining the four at-large seats.
The vote was eight to one, with Councilman Andrew Friedson voting against the map. He was not happy that North Bethesda was placed with Silver Spring rather than other Rockville Pike communities and also wanted the council to pause before voting to allow for public comment.
Council members accepted most of the recommendations of the Montgomery County Commission on Redistricting, but opted to move the Kemp Mill, Silver Spring area into one district so that the Orthodox Jewish community would be located together with the businesses, schools and synagogues it frequents. Kemp Mill will be part of District 6.
Other changes include placing Ken-Gar together with the nearby Kensington, thereby moving it out of District 6 and into District 4; adding the Northwest Park-Oakview neighborhood into District 5 with the nearby Hillandale area.; and placing the Willows of Potomac-Traville Gardens neighborhood with the rest of its community.
Aurora Hills was moved into District 2, and the precincts of Potomac-North Bethesda area west of I270. Also, the Derwood/Redland community was moved out of District 6 and into District 7.
The Four Corners area of Silver Spring remains split between several districts.
County staff members explained that some of the smaller map changes were easier than ones involving larger communities. Each of the seven districts had to contain about 150,000 residents. They had to be compact and contiguous, and ethnic and racial groups had to be distributed in such a way that they are not packed into one district or split up so much that their voices are diminished.
"No one is losing representation. What we are gaining is democracy in action," said Council Vice President Evan Glass.
"This was never going to be perfect. We knew that going in," said Council President Gabe Albornoz.
Likening the creation of the districts to doing a puzzle, Councilmember Sidney Katz said, "We should not be splitting away precincts from any community. Puzzle making must be done collectively."
Now that the map is finalized, candidates wishing to run for a district council position can see what their district will look like.
Councilmembers thanked members of the redistricting commission. Albornoz praised "their diligent, well-informed work and their timely recommendations and report to the Council."
🗺 The updated interactive map for Montgomery County Council Districts is now live.
➡️Go to https://t.co/GOVR0EgQ5c
📰Read more: https://t.co/yf4qiZfcgH pic.twitter.com/0eaRcbUbUQ

— Montgomery Council (@MoCoCouncilMD) December 8, 2021
We also amended the bill to make adjustments to the Ken-Gar, Northwest Park/Oakview, Willows of Potomac/Traville, and Aurora Hills neighborhoods.

I look forward to seeing the new representation these maps yield take shape to move the County forward in years to come.

— Nancy Navarro (@nancy_navarro) December 8, 2021
Related Post
Some Residents Tell County They Don't Like Proposed Redistricting Map