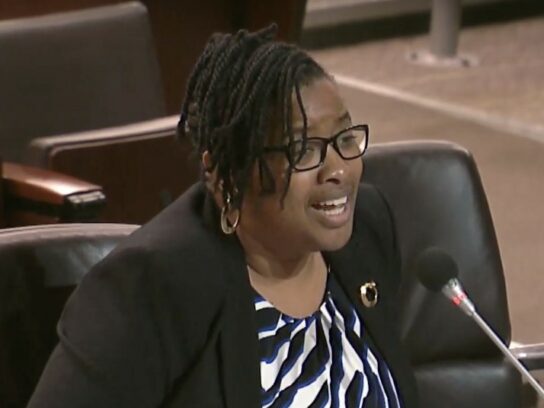 Montgomery County Racial Equity Program Manager Tiffany Ward was interviewed by the County Council Tuesday for a position as the county's Chief Equity Officer (CEO). Ward was appointed by County Executive Marc Elrich and the council will vote on her appointment on Feb. 25. 
Today as the County Council celebrates Black History Month, it is a proud moment for me as we interview Tiffany Ward for the position of Chief Equity Officer. She will begin the crucial work that is required by the Racial Equity and Social Justice Law that I authored. #SoProud pic.twitter.com/iCcHYvhZxt

— Nancy Navarro (@nancy_navarro) February 11, 2020
The CEO runs county racial equity programs, and makes sure that policy decisions consider equity before they are made. The officer will collaborate will county departments and residents to create a more equitable Montgomery County. 
Ward worked in nonprofit youth development before coming into policy work. She worked to get mentors for young people so they could have the support needed to graduate high school, and was a part of a workforce investment program that helped young people who were not going to college. Ward said she shifted to policy work when she realized that was the best way to help youth in troubling circumstances. 
She worked on Fight for 15 minimum wage legislation in the county, as well as legislation for domestic workers' rights. Ward said this legislation fought for racial minorities without saying so, and that she's happy that race is now being explicitly addressed.
"I'm really glad that the county's at a point where we can name race as part of what we are targeting and doing," Ward said. She said she wants to get to the core of racial disparities in the county, not just treat the symptoms.
Councilmember Craig Rice asked Ward how she would balance hearing louder, more privileged voices with the voices of those who may work multiple jobs and are unaware or unable to make their voices heard. He said that at the recent pedestrian, bicycle and traffic safety town hall at Wheaton High School, there were very few people of color in the packed room. 
Ward said as CEO, she would go out to spaces where underrepresented communities are and bring issues and information to them, and bring the feedback back to the council. She said there are different ways to engage people and hear their narrative, other than having them come testify in front of councilmembers. 
"While this is a wonderful space, it's not the only way that you should be able to engage with your legislators," Ward said. 
Councilmember Gabe Albornoz asked Ward how she would maintain relationships with councilmembers as CEO to ensure success with racial equity goals. 
"I think that relationship building is my strong suit," Ward said. She said she's very accessible and will use the council as a resource, rather than thinking it a burden to update members. 
Councilmember Andrew Friedson thanked Ward for her commitment to racial equity as well as her realistic approach to it. He said this is going to be a long and ongoing process. 
"Hundreds of years of challenges aren't addressed and undone in 100 days," Friedson said.