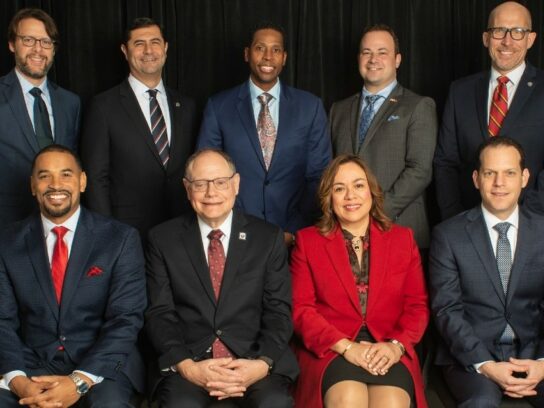 Montgomery County Council unanimously voted to override County Executive Marc Elrich's veto of legislation concerning changes to the county impact taxes for transportation and public school improvements.
The legislation decreases impact tax revenue with the goal of bringing more housing and business to the county, explained Councilmember Hans Riemer. During the council's meeting on Tuesday, Riemer explained "We need to think differently," adding that the economy "won't accelerate if we don't make changes."
The legislation will "charge appropriate taxes" and bring down those rates to be more like neighboring jurisdictions, he said.
Impact taxes are levied against developers to help cover costs that occur due to their developments, including bringing new students to the school district. The costs currently are based on 120% of the cost of a student. When the legislation goes into effect, that rate will be 100%.
Elrich explained in a letter to the council that he vetoed the bill because it reduces the funding available to the county. "I cannot support simply reducing the necessary revenues without an appropriate replacement," he wrote.
"My primary concern is the projected revenue loss, which is estimated to be between $12.5 million and $20 million per year based on an analysis of projects in the development pipeline. These reduced revenues are occurring at a time when we know we don't have enough funding to address current needs or other infrastructure investments needed to grow our economy and maintain our status as a desirable place to live," he wrote.
The legislation, which council unanimously approved on Nov. 16, eliminates a residential building moratorium to help generate new housing.
"Economic development is critical," said Councilmember Nancy Navarro before casting her vote to override Elrich's veto. "This is central to our work."
Councilmember Andrew Friedson said the legislation is aimed at bringing new housing to the county, especially near transit stations. "Unfortunately, the county executive ignored the numbers and his own experts."
Council President Tom Hucker, in a news release, noted, ""We must take bold steps to set our community up to thrive over the long term as we emerge from this pandemic." This bill "will make our community more desirable, spur much-needed housing construction, create high-paying jobs and more affordable places for our residents to live," he wrote.
According to The Metropolitan Washington Council of Governments, the region needs to increase the number of planned housing units by at least 320,000 units between 2020 and 2030 to sustain economic growth and improve quality of life for area residents.
Several county officials tweeted about the override, including Friedson who wrote "Disappointed the CE has again rejected tangible progress on transit-oriented housing. The Growth and Infrastructure Policy is data-driven and will make our County more welcoming to new residents, more attractive to new businesses, and more competitive."
Thanks to the @MoCoCouncilMD for overriding the @Marc_Elrich veto of legislation to implement the new growth policy, which lays the groundwork for more housing and more walkable, bikeable places. https://t.co/hwo3uvgUf8

— Casey Anderson (@CaseyAndersonPB) December 9, 2020
While the County Exec opposes change and development as he has for decades, this Council unanimously passed a comprehensive Policy that carefully balances competing needs to address school enrollment, boost economic development and allow badly-needed new housing https://t.co/L4mzckAqFN

— Hans Riemer (@hansriemer) December 9, 2020
Unimpressed that the @MoCoCouncilMD overrode my veto of @CaseyAndersonPB's ill-conceived plan to give away badly needed funds for transportation and schools in an exchange for no more affordable housing than we would have gotten anyway.

— Marc Elrich (@Marc_Elrich) December 9, 2020