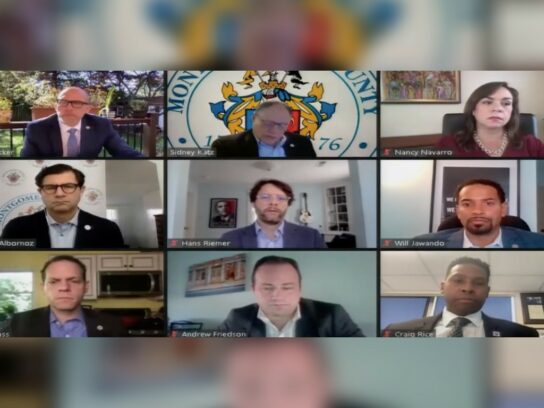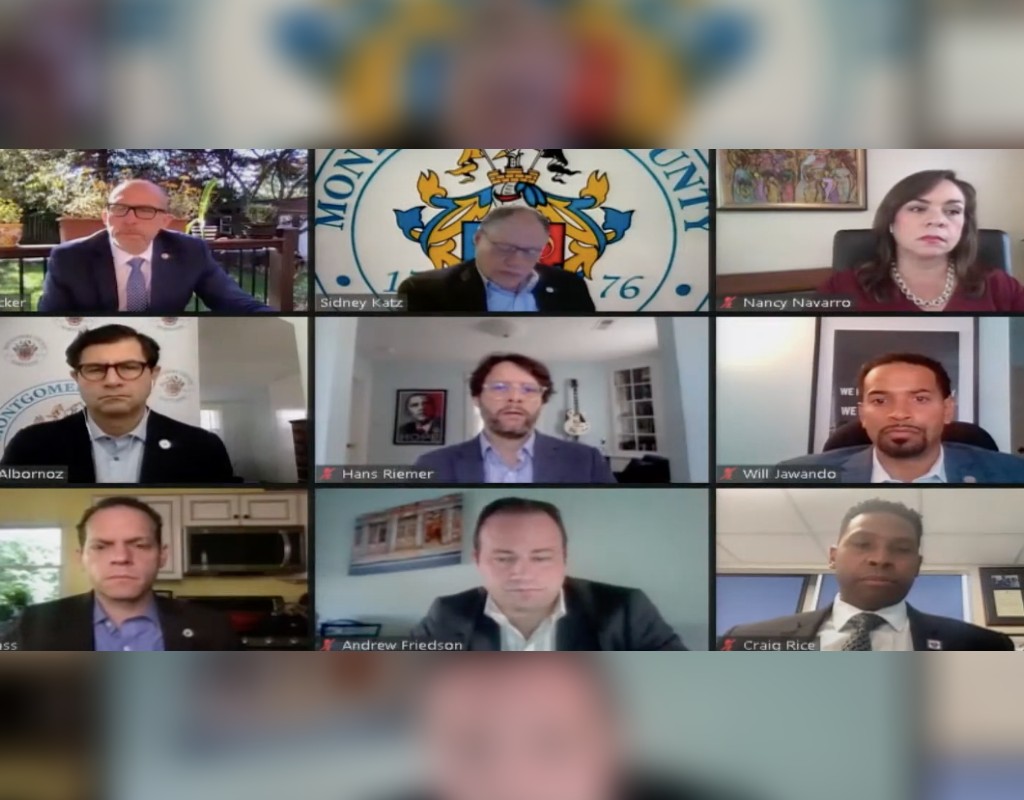 The Montgomery County Council postponed voting on County Executive Marc Elrich's order reinstating some COVID-19 restrictions.
A vote is tentatively scheduled for the council's next meeting on Tuesday, Nov. 10. The order was intended to be approved Thursday and go into effect Friday, however, the council and county officials agreed some wording needs to be clarified. Emergency Management and Homeland Security Director Dr. Earl Stoddard said the order will likely go into effect Tuesday at 5 p.m., assuming the council approves it that day.
During a media briefing Wednesday, Elrich said it was time to reinstate some COVID-19 restrictions, including reducing the gathering size limit from 50 to 25 people.
During a council meeting Thursday, Stoddard clarified that the county's Late-Night Alcohol Sales Program will still be suspended Friday at 5 p.m. as was announced during Wednesday's briefing. The more than 200 establishments in the program will again be prohibited from serving alcohol for on-premise consumption after 10 p.m.
Stoddard said Elrich speaks with county executives from nearby jurisdictions on a weekly basis. He has been trying to get others to join Montgomery in reinstating some restrictions.
"The County Executive Elrich has been attempting to recruit other partners in this. There's just a lot of trepidation," Stoddard said.
"We got to the point where we've been holding back on this recommendation for weeks trying to recruit other people to jump off that proverbial ledge or move forward with this together. And we have not been able to get partnerships on this."
Because county officials could not get neighboring jurisdictions to join in its rollbacks, Montgomery is going at it alone. However, Stoddard said he thinks that will change very soon.
"I don't want to announce something ahead of someone else, but I do not suspect by next week we will be alone on this issue," Stoddard said.
Emergency Management Director Dr. Stoddard anticipates Montgomery County won't be the only jurisdiction announcing rollbacks/changes.

"I don't want to announce something ahead of someone else, but I do not suspect by next week we will be alone on this issue." @mymcmedia https://t.co/nBU0eAKyER

— Maryam Shahzad (@maryam_mcm) November 5, 2020
Elrich's new executive order will also prohibit take-out alcohol after 10 p.m. Stoddard said there have been issues with compliance in the county's "streeteries," including underage drinking and a lack of physical distancing and mask-wearing.
Councilmember Gabe Albornoz asked about the possibility of giving extra time before an executive order goes into effect, so businesses can have enough time to adjust. Stoddard said it's tricky because every day matters when it comes to stopping the spread of the coronavirus.
"Obviously what goes on this weekend will contribute to cases for the next two weeks," Stoddard said. Whenever the council does approve changes, it will likely take two weeks to see any benefit, he added.
Stoddard said it will be difficult to balance between public health immediacy once something is deemed necessary and pausing for public review while the unsafe activity continues. But, he thinks the county can attempt to give some extra time.