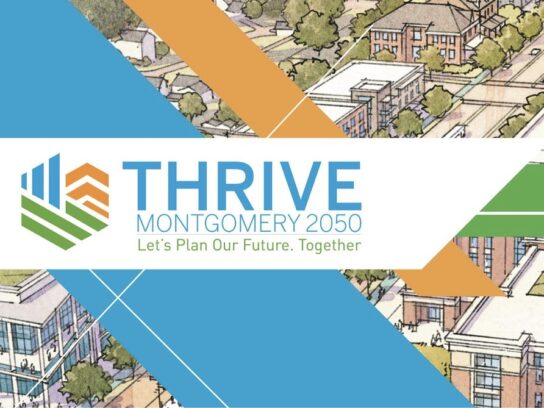 After two years of research, debate and meetings with the public, Montgomery County councilmembers  unanimously adopted Tuesday morning Thrive Montgomery 2050, the 125-page document designed to guide future growth in the county.
Many in the audience loudly booed during the discussion and after the vote and held signs critical of the plan as well as council's proposed resolution concerning antisemitism, which currently is not scheduled for a vote, according to Councilmember Andrew Friedson.
Thrive 2050 is a policy document that does not change zoning but instead cites recommendations on such things as transportation, housing, parks and recreation throughout the county. For many of the recommendations to take place, the council will need to vote to change current zoning.
It was written by the planning board, whose members were asked to resign effective immediately on Oct. 12 following a no confidence vote by councilmembers.
Executive Marc Elrich is highly critical of the plan, calling it "one of the dumbest things we've ever done," during a political forum Sunday at B'Nai Israel Congregation in Rockville.
"There is not a single, concrete remedy for how to address equity," Elrich said in February. "This plan is utterly silent on what you need to do" for affordable housing,"
But Council President Gabe Albornoz, who publicly criticized Elrich's views, said the county's development plans need updating. Work on Thrive "has been a long road."
Thrive 2050 sets "a vision," and would require councilmembers to rezone for any changes to take place.
"This document was never going to be perfect," Albornoz said, adding that if they continued work on it, it still wouldn't be perfect.
Councilmember Sidney Katz, who "had issues with Thrive 2050 from the beginning," said he decided to support it. "In many ways, this document is the beginning and not the end. The goals are what we need."
According to council, Thrive "is the overarching policy document that envisions what Montgomery County's future could look like by collectively planning for the future needs of our community. This plan gives Montgomery County a clear path forward to create places where affordable housing can be increased, transit can be improved and businesses can be strengthened in equitable and sustainable ways."
Following complaints this summer that the plan lacked a racial equity element and not all residents were being held, the planning commission added new chapters on economic health, racial and social justice and environmental resilience.
We're proud to announce that Thrive Montgomery 2050 has been unanimously approved by the @MoCoCouncilMD. Discover more about the plan and what it means for the county. https://t.co/1JmwW092Jk #Thrive2050 pic.twitter.com/lSasvRB2aZ

— Montgomery Planning (@montgomeryplans) October 25, 2022
Approval of the general plan is mandated by law, but it's passage does not create any change itself.

What it does is articulate a mission for the next thirty years — one that will be vigorously discussed and debated.

Today's action is just the start of that conversation.

— Evan Glass (@EvanMGlass) October 25, 2022