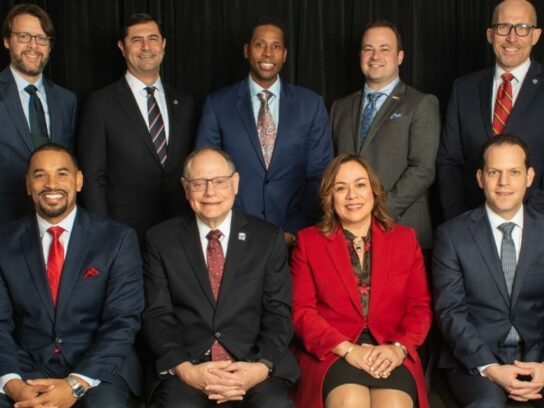 Montgomery County Council voted unanimously to expand its prevailing wage requirement in an effort to make the county more affordable to residents.
"This is one of the biggest bills we passed this year," said Councilmember Tom Hucker, who spearheaded the legislation along with Councilmember Will Jawando.
A prevailing wage is greater than the minimum wage. It regulates rates of pay for public works and is partially determined by what it costs to live in Montgomery County.
During discussion at its March 22 meeting, councilmembers pointed to two reasons they believed this was necessary. It would help make the county more affordable, moving more people into the middle class. Also, it would employ more county residents and enable more companies located in the county to be chosen for work, they said.
Without increasing the prevailing wage, out of state companies that pay less than the county's minimum wage will be awarded most of the construction jobs here, according to Hucker.
"I am thrilled that the Council has voted to pass this legislation, which will ensure our construction workers can earn a prevailing wage in Montgomery County," he said. "By helping local workers and contractors compete for public construction projects, this bill will create more middle-class jobs with benefits, reduce demand on our social services, incentivize excellent apprenticeship training, and expand workforce and economic opportunities for our young people."
Hucker noted, "This bill is all about fairness."
"This is going to impact a lot of lives positively," said Council President Gabe Albornoz.
Currently, contractors of construction projects are excluded from the prevailing wage requirement if their project is less than $500,00. Maryland's threshold is $250,000, which is the cost the county will now use if this bill is signed into law by Executive Marc Elrich.
The bill council adopted expands the prevailing wage requirements to include construction projects financed by Montgomery County. It also makes prevailing wage requirements applicable to construction contracts that receive payment in lieu of taxes. It expands the scope of construction to include rehabbing, repaving, pavement milling and mechanical systems.
It exempts affordable housing projects owned by the Housing Opportunities Commission and non-profit developers that create reduced rental units or accept rental assistance.
In a news release, both the Baltimore-D.C. Building Trades Council (BDCBT)  and the Mechanical Contractors Association of Metropolitan Washington said they supported a prevailing wage.
BDCBT President Stephen Courtien said, "This impactful legislation ensures more workers have the opportunity to earn a family-supporting wage in Montgomery County and continue contributing to the County by working on projects that benefit all residents."
Added Executive Vice President of the Mechanical Contractors Association Thomas Bello, "This legislation will incentivize good jobs, strong apprenticeship training, and help build a thriving regional economy."
#News: MoCo unanimously passed Bill 35-22, prevailing wage bill! This is a great day for our workers, local contractors, and the County! This bill levels the playing field in procurement & will create pathways to well paying jobs. https://t.co/wI6laC5x2m

— Councilmember Tom Hucker (@CmHucker) March 22, 2022