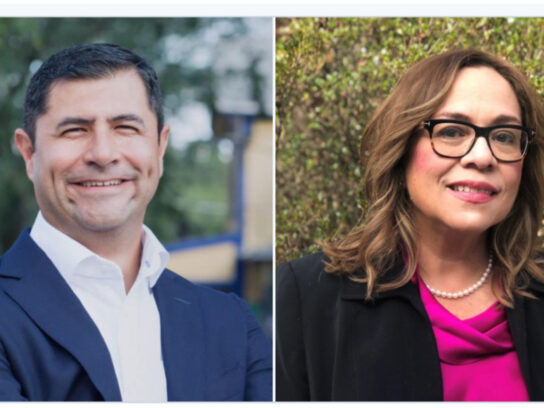 Montgomery County Councilmembers Nancy Navarro and Gabe Albornoz expressed disdain for a remark made by County Executive Marc Elrich before a media briefing began on Wednesday
In a story first reported by The Seventh State, Elrich joked that the county council is "fact proof" in regard to COVID-19 statistics around the county's Hispanic population. On Tuesday, the council introduced a regulation that would require Elrich to "immediately implement a comprehensive strategy for 'free, no appointment, no referral, walk-up testing,' at sites available county wide."
The council cited that the Montgomery County Department of Health and Human Services (DHHS) reported a test positivity rate of 70% for Hispanics in the county's ten zip codes most impacted by COVID-19. This rate "represents a severe crisis that must be addressed with the greatest urgency and resources," the regulation reads. However, during a council meeting Tuesday, county Health Officer Dr. Travis Gayles said that information is incorrect, and the figure did not represent test positivity. He said that test positivity for Hispanics in June was about 14%, and 28% in the top ten zip codes. The month with the highest positivity rate for Hispanics was in May, with a 34% positivity rate and 68% in the top ten zip codes.
Gayles said the 70% figure refers to the fact that 73% of new COVID-19 cases in June were Hispanic people.  
Ahead of the virtual media briefing Wednesday, Elrich, Gayles and Office of Emergency Management and Homeland Security Director Dr. Earl Stoddard were discussing how racial statistics can be analyzed in different ways, such as overall positivity rates versus monthly new cases. 
Gayles relayed information similar to what he told the council on Tuesday. He said that at one point, Hispanics accounted for 73% of COVID-19 cases in the county, but overall they make up 37%. He said that statistic is still being calculated for July.
To that information, Elrich said, "Can I say the council is fact proof?"
The conversation happened before the briefing began, but was being broadcast and is no longer online, according to The Seventh State. 
Councilmembers Navarro and Albornoz did not find the joke amusing. On Facebook, both disapproved of Elrich's remark. 

"This is no laughing matter. These are not just numbers, these are people. The fact is that this pandemic has disproportionately affected our Black and Latino community. At this moment we know that the Latino community is particularly [disproportionately] affected, they admit this in this video," Navarro said.
"I take issue with the cavalier attitude and the disrespectful manner in which the Council and this community is addressed in these comments."
Albornoz said, "I did not find the County Executive's comments on this video funny or amusing. In fact, I found them deeply troubling and the reaction of his senior officials disappointing."
"I worked for a high functioning Executive branch and a fully engaged County Executive so I know what it looks like. It does not look like the lack of leadership we see in this video."