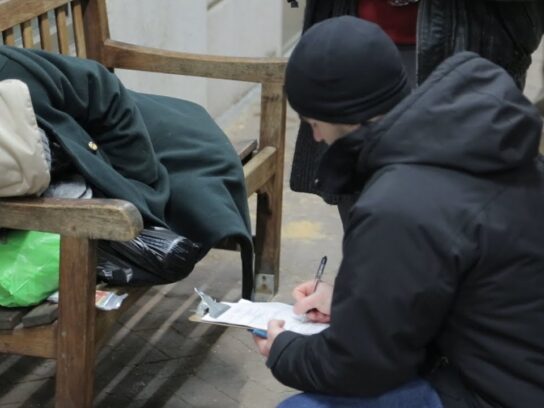 Wednesday night and into the early morning hours of Thursday, more than 100 volunteers walked around the county connecting with and counting any homeless people they saw.
This annual Point-in-Time program is designed to provide both Montgomery County and the federal government about the unsheltered people living on the street, parks, cars, under bridges or similar places. The annual count is required by the U.S. Department of Housing and Urban Development.
Starting at 9 p.m., the volunteers, who were neighbors and members of the county council and nonprofit community, participated in a training in Rockville before heading out to specific locations.
"We got a really good understanding" of what the county and such nonprofits as Bethesda Cares do to bring unsheltered people into area shelters, hotels or apartments, Council President Evan Glass said. The volunteers also learned about services available to those living on the street.
"We can't force somebody into a shelter or a hotel. That is their legal right," Glass said, who walked around Downtown Silver Spring. However, he said, it is important to reach out to unsheltered people and let them know what they are entitled to, from a room to various social services.
Five councilmembers participated. Member Kate Stewart was assigned to the Long Branch area, where her group encountered one unsheltered person. Stewart attributed that small number to the cold and sometimes rainy night and also to the good work of the county, which provides shelters and works hard to place the homeless in their own homes.
"We experienced firsthand a little bit of what it is like to be unhoused," she said. "It is overwhelming when you think about it and when you meet individuals who are unsheltered on a really cold night."
She appreciated that the event also enabled her to meet with both county and nonprofit employees involved in ending homelessness in the county.
Also spending the early morning hours to find people sleeping outside was Councilmember Marilyn Balcombe, who walked around Germantown. Her first stop was in a restaurant that was open 24 hours a day. When her group asked if anyone spends the night there, a waitress told them of a woman who sits in a booth.
"She was so nonchalant," Balcombe said of the waitress. "I really felt, it was just this feeling of how the community is taking care of its own. It was so heartwarming."
She called the few hours "a great experience." Not only did she meet several unsheltered people, but she also saw her community after 1 a.m., something she was not used to.
During last year's Point in Time Count, 581 unsheltered people were located, which was slightly higher than in 2021 when 577 people experiencing homeless were counted.
We are getting ready for the "Point in Time" unsheltered count. We have a room full of volunteers heading out to work through the night. The goal is to end homelessness in @MontgomeryCoMD by 2025. @CMEvanGlass @Andrew_Friedson @KristinMink_ @cmkatestewart pic.twitter.com/wiIPJAPpCP

— CM Marilyn Balcombe (@MarilynBalcombe) January 26, 2023
Related Post
County's Homeless Slightly Up; Need for Affordable Housing Continues