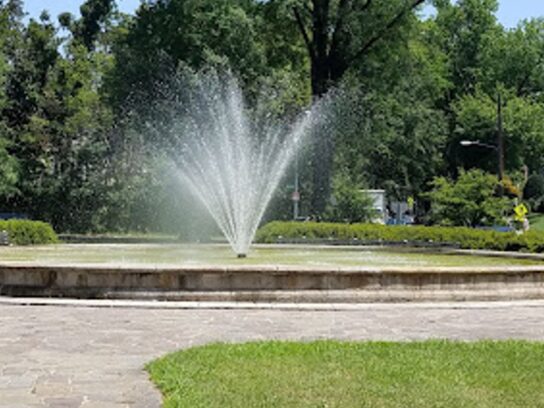 Montgomery County Councilmembers introduced a resolution Tuesday to support removing the name of Francis G. Newlands (1846-1917), a former senator and "outspoken white supremacist," from a memorial fountain dedicated to him in Chevy Chase Circle.
According to a council statement, "United States Senator Francis G. Newlands, who founded the town of Chevy Chase, Maryland in the 1880's was an outspoken white supremacist who actively sought to strip voting rights from African Americans." 
The Chevy Chase Circle is partly in Washington, D.C. and partly in Montgomery County. Representatives Jamie Raskin (D-8) and Elizabeth Holmes Norton (D-DC) and Senators Chris Van Hollen and Ben Cardin have spearheaded legislation to direct the U.S. Department of the Interior to remove Newlands' name from the memorial fountain. The council resolution shows support for the legislation. 
"The reason this is important is because Francis Newlands was a United States Senator who founded the town of Chevy Chase, but also espoused hatred towards many other people," Council Vice President Evan Glass, a lead sponsor, said during Tuesday's council meeting.
According to a newsletter from the Chevy Chase Historical Society (CCHS), "Newlands advocated for denying political rights, and even citizenship, to people of color."
"He saw the U.S. as a nation for whites only, and advocated for restricting immigration to white people. He opposed Chinese immigration to Hawaii. He advocated for the resettlement of Black people to Cuba or Africa," the newsletter reads.
Glass said, "Quite frankly, his views run contrary to our commitment here in Montgomery County to equity and racial justice, to make sure that every single resident of Montgomery County feels welcome and safe."
Glass, Councilmember Andrew Friedson and Councilmember Will Jawando are lead sponsors of the resolution. The six other councilmembers — Council President Gabe Albornoz and Councilmembers Craig Rice, Tom Hucker, Sidney Katz, Hans Riemer and Nancy Navarro — are co-sponsors. 
In 2020, the Chevy Chase Village Board of Managers adopted a resolution to say the board wanted Newlands' name removed.
Council action is tentatively planned for April 26.