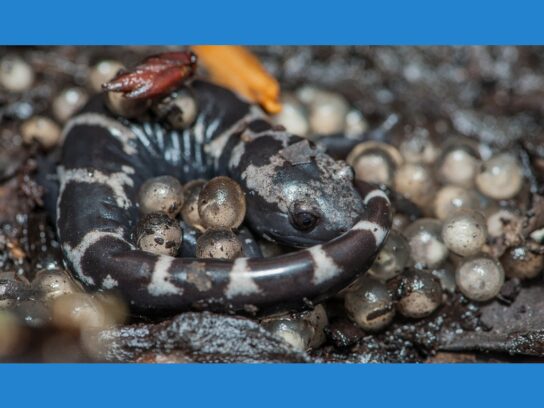 In recognition of National Water Quality Month, the Montgomery County Department of Environmental Protection (DEP) will highlight at-risk aquatic animals that have a special history with the county.
Throughout the month of August, the DEP will release blogs and videos on social media and the My Green Montgomery website about each creature. The series will focus on their histories with the county, how residents can help to protect them and the DEP's efforts to improve their habitats, according to a Montgomery County press release.
The at-risk 'stream critters' include:
American Eel, the only fish in our area that travels to freshwater streams in adulthood after beginning life in seawater of the Bahamas and Bermuda area.
Acuminate Crayfish, unique to our county and the Prince George's area and typically found in the Anacostia watershed.
Giant Stonefly, short in abundance due to less than favorable conditions, they are very sensitive to water pollution.
Marbled Salamander, a creature with a poisonous tail to fend off predators.
Yellow Lance Mussel, a federally threatened species that can only be found in the Patuxent watershed.
National Water Quality Month was founded by the Environmental Protection Agency in 2005 in an effort to promote conversations on how to conserve natural water sources. This led to community efforts to ensure that future generations would have access to safe and clean drinking water.
This also followed the passing of the 1972 Clean Water Act which made it illegal to dump high amounts of toxic materials into bodies of water and the 1974 Safe Drinking Water Act which helped to further protect the quality of water for human consumption and recreational use. Now, DEP Director Adam Ortiz looks to stop pollutants from the county from getting into our creeks and streams.
"There is a direct connection between the quality of water in our streams and wildlife," Ortiz said. "Clean water allows for wildlife to thrive and flourish. Unfortunately, pollutants, pesticides and even pet waste that wash from our streets and lawns flow into our County creeks and streams. The result is stream critters that should be thriving, but instead are at risk because of human actions."
*ALERT* The RainScapes program will be taking a temporary pause on accepting NEW applications from 8/1/2021-10/15/2021 due to popularity. Current applications will continue to be processed. Learn more: https://t.co/DI0gx7z4LY #RainScapes pic.twitter.com/33OWdZX0KW

— Montgomery County Dept of Environmental Protection (@MyGreenMC) July 29, 2021
The DEP will work with residents to improve water quality in the county through programs like water restoration projects, RainScapes gardens and Tree Montgomery.
More information on the DEP water restoration project can be viewed on the county's Department of Environmental Protection website.