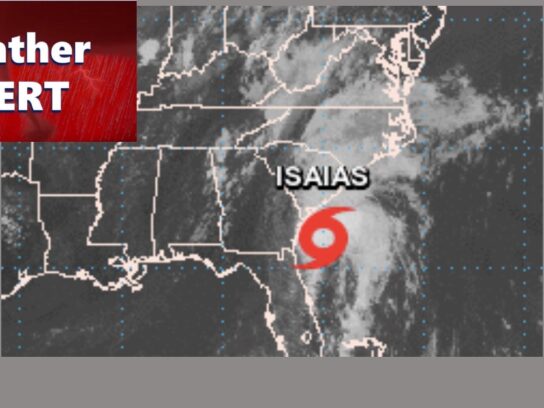 As Tropical Storm Isaias approaches the Mid-Atlantic region, the county continues to monitor its path. Impact of the storm will be felt all along the East Coast, including here in Montgomery County, as it moves northward throughout the week, according to the National Weather Service.
Montgomery County Office of Emergency Management Director Dr. Earl Stoddard says the local impact of the storm will mostly be felt on Monday night into Tuesday. There's a strong potential for high winds and heavy rainfall which could cause severe flooding.
"For this event, the biggest concern will be the flooding. The Middle Atlantic River Forecast Center has us receiving between five to seven inches of rain within the next 72 hours," said Dr. Stoddard.
MyMCMedia spoke with Dr. Stoddard to get updates on how the storm could impact Montgomery County.
Montgomery County emergency response officials are recommending that residents secure or put away loose objects that could blow away in the wind, and charge electronic devices in case of power outages.
According to the National Weather Service, Tropical Storm Isaias is forecast to strengthen into a hurricane again and reach the Carolinas on Monday night. The National Hurricane Center says the storm could restrengthen before landfall.
Tropical Storm #Isaias Advisory 26: Isaias Forecast to Make Landfall Tonight as a Hurricane. Expected to Bring Strong Winds and Heavy Rainfall From the Eastern Carolinas to the Mid-Atlantic Coast Tonight and Tuesday. https://t.co/VqHn0u1vgc

— National Hurricane Center (@NHC_Atlantic) August 3, 2020
We continue to monitor the path of #Isaias and it's potential impacts on Montgomery Co tomorrow night and into Tuesday. Possibility of periods of intense rain and some wind. Secure outdoor objects tomorrow. Heed the warnings and alerts out of @NWS_BaltWash and @ReadyMontgomery https://t.co/53bPSTghs9

— Earl Stoddard PhD, MPH, CEM (@EarlStoddard) August 3, 2020
— Pete Piringer (@mcfrsPIO) August 3, 2020
Be Aware, Be Informed, Be Prepared – Flash Flood WATCH will go in effect on Monday 8/3 @MontgomeryCoMD @ReadyMontgomery SEE list of MoCo streets that are susceptible to high water & flooding https://t.co/dTT0SXUYQd pic.twitter.com/dzYHiygYIJ

— Pete Piringer (@mcfrsPIO) August 3, 2020
See related posts below:
Tropical Storm and Flash Flood Watch in Effect Monday Into Tuesday