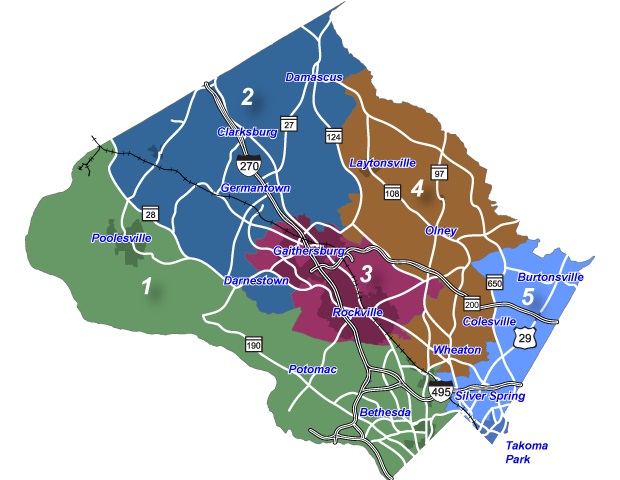 County Council Creates Commission on Redistricting
The Montgomery County Council is creating a commission on redistricting.
County residents who wish to join may apply by 5 p.m. on Monday, Oct. 26. Currently, the county is divided into five council districts, each electing one member to the council. Additionally, four councilmembers are elected at-large.
However, ballot questions in the upcoming election could change the number of districts, according to a press release. In question C, which was proposed by the council, residents will vote whether or not to add two seats elected by district, totaling 11 councilmembers. Question D, which was petitioned by Nine Districts for MoCo, a local group of residents, would to get rid of all at-large seats. The council would maintain its nine members elected by district.
The new districts would be in effect for the 2022 council election.
The redistricting commission must have 11 registered voters, with at least one but no more than four members from both the Democratic Party and the Republican Party. Additionally, all council districts must be represented at least by one member. Those who hold an elected office are not eligible to be appointed to the commission.
The commission will present a report and a plan re-establishing council districts by Nov. 15, 2021. Within 30 days of that, the council will hold a public hearing on it. The plan will become law within 90 days if no other law regarding district boundaries is enacted.
Application instructions are included in the county's statement.