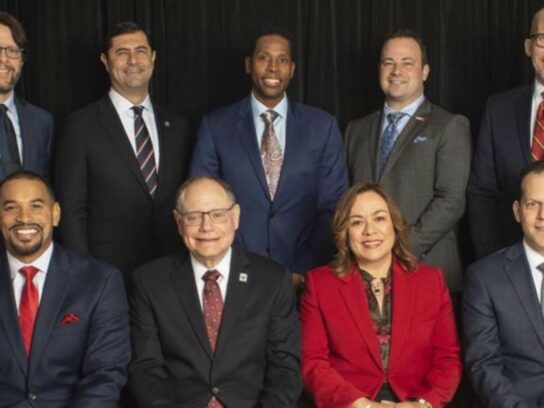 Following many meetings discussing next fiscal year's Montgomery County budget department by department, county councilmembers gave their preliminary support Thursday to the budget that was submitted by County Executive Marc Elrich.
The proposed budget does not include a tax increase.
The council will vote on Fiscal Year 2023 operating budget and the Fiscal Year 2023-2028 Capital Improvements Program on May 26.
Each line item of the $6.3 billion budget "tells an important story," said Council President Gabe Albornoz. "Together, they create the foundation for what is most important to us: a community with excellent schools, housing for all of our residents, strong economic development, green spaces for recretion and relaxation, safe neighborhoods, robust libraries, a community with strong public health and where seniors can age with grace and support, a healthy environment and a safety net that ensures food, housing and health for our vulnerable residents."
The county has more money to work with thanks to federal and state economic recovery programs due to the pandemic.
Albornoz said the budget places "a heavy emphasis" on helping vulnerable populations. It includes more than $421 million for the Department of Health and Human Services.
However, Shepherd's Table Executive Director Manny Hidalgo, sent an email to supporters urging them to write to county councilmembers to ask for increased funding for the organization in Silver Spring that feeds and assists the needy in many other ways.
"We have unfortunately been unsuccessful at convincing the Council to approve our request," Hidalgo wrote in the email. He explained that Shepherd's Table has experienced a 59% increase in demand for meals and social services since 2020.
The proposed budget does include $1 million for a new Office of Food System Resiliency and a $4 million, one-time, funding to support food insecurity. Also included in the budget is $12 million for Minority Health Initiatives to continue their culturally competent services and resources.
More than $5.6 million will be allocated to the county's Consolidated Service Hubs.
Almost $3 billion is proposed for schools, and Montgomery College will be fully funded at $312 million, ensuring that tuition rates will not be increased.
Mental health services are expected to receive an increase of $3.7 million, part of which will fund case management services at 10 high schools that don't currently have a wellness center. Another $5.5 million is allocated to expand mental health problems through the Street Outreach Network and other community based providers.
The proposed budget includes increases for first responders. Some of that will be used for recruitment and retention. About $436,000 will go to the new Police Accountability Board and Administrative Charging Committee to investigate police misconduct and to build trust between residents and law enforcement.
Climate change  played an important role in budget discussions. The Department of Environmental Protection's budget is proposed to increase by 116%. Also receiving a boost are affordable housing programs.
Council Vice President Evan Glass called the budget "an exercise in fiscal discipline," adding, "This is a budget that truly benefits all our residents." He stressed that it includes "a record-level of education funding," noting, "This investment is a signal to students and parents that education is a child's path to success, and it also sets us on a trajectory to enact the Blueprint for Maryland's Future in the coming years."
Glass said, "My priority throughout this budget process has been to ensure that the most vulnerable are safe, healthy and housed." He specifically pointed to programs for the homeless or those at risk of being homeless, Vision Zero and the policy to enable Ride On buses to remain free to riders. He also praised funding for a D.C. diaper bank and expanding community policing.
"In summary, this budget does a lot of good. But there is still a lot of work ahead of us to make Montgomery County a more fair and equitable place. That conversation will continue, but for now, I believe that this budget moves us in that direction, is fiscally sustainable and puts vulnerable communities first. We should all be proud."
Council President @albornoz_gabe says that Montgomery County's budget "creates the foundation for what's most important for us: a community with excellent schools, housing for all, strong economic development, green spaces for rest & relaxation, safe neighborhoods" & more. pic.twitter.com/m7u947G6YX

— Montgomery Council (@MoCoCouncilMD) May 19, 2022