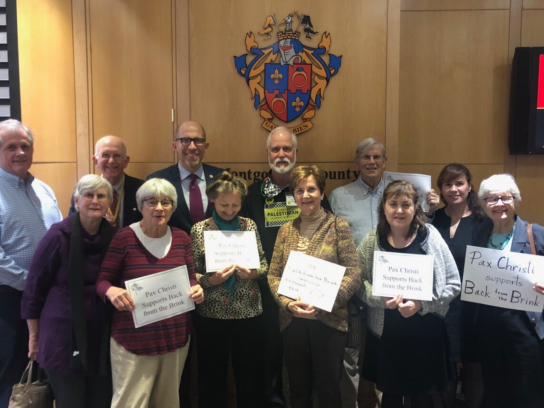 The Montgomery County Council passed a resolution to join the "Back from the Brink" campaign that calls on the Trump Administration and the U.S. Congress to exercise global leadership in preventing nuclear war.
The resolution was recently passed without opposition in a 8-0-1 vote by the Council. The legislation was supported by Maryland Peace Action, Sandy Spring Friends Meeting, and local Pax Christi activists.
Montgomery County residents paid an average of $320 per capita in federal taxes that contributed to the cost of producing, deploying and maintaining nuclear weapons. Maryland taxpayers collectively paid an estimated $1.47 billion in 2017 federal taxes toward the country's annual cost for nuclear weapons.
Since July 2017, organizations including the U.S. Conference of Mayors, the Union of Concerned Scientists, Physicians for Social Responsibility and the Federation of American Scientists along with the State of California, the City of Los Angeles, Washington DC, and the city of Baltimore have joined the "Back from the Brink" campaign to call on the United States to change its priorities to prevent nuclear war.