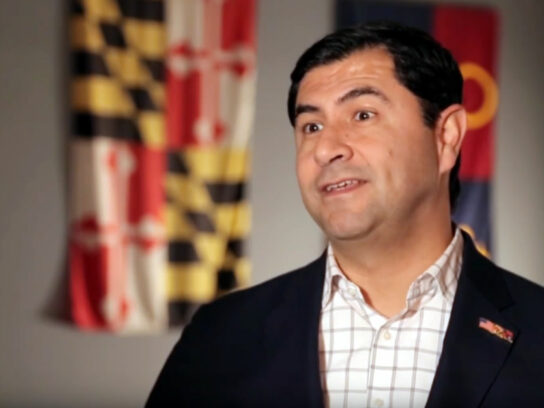 The public is invited to attend the Montgomery County Council's March 15 meeting, something that has not happened since the start of the pandemic. In an effort to stop the spread of the COVID-19, the council has conducted its meetings virtually.
Council President Gabe Albornoz announced the meetings will be held in person, but added that he encouraged everyone to remain civil and respect their fellow residents. "We have to remain civil in our discourse," he said. "We just ask and beg that our community remain civil in all discourse."
According to Albornoz, two finalists for the position of Montgomery County Health Officer have turned down the job previously held by Dr. Travis Gayles.
"I've recently learned that a second finalist for the public health officer position in Montgomery County has turned the job down because of fear and concern over the rhetoric, over the attacks," he said during a meeting with the press. This is happening nationally, and "It's a sad state of affairs," he said.
Recently, Montgomery County Public Schools Student Member of the Board of Education, Hana O'Looney, was insulted on social media. According to the BOE, inappropriate language was used.
"Recent postings on Twitter and other social media have chosen to use vile language and personal insults to attack Ms. O'Looney and are clearly harmful attempts at cyber-bulling. This behavior is reprehensible, particularly when adults are targeting a student."
The negative comments came after O'Looney stated during the Feb. 24 school board meeting, "I personally am in support of keeping the mask mandate."
The BOE is expected to vote March 8 whether to end the mandate of wearing masks during school, and O'Looney stated that she believes many students still feel that masks protect themselves and others.
The state agreed that school districts can remove their mask mandate, especially if the county has reduced levels of cases and hospitalizations due to COVID-19.
Montgomery County registered about 61 cases per 100,000 residents during the previous seven days and had a test positivity rate of 2.04%, according to county Health and Human Services Public Health Emergency Preparedness Manager Sean O'Donnell. Both these numbers have been dropping, he said.
Currently, there are 68 hospitalized COVID-19 patients, 36 of whom are in acute care rooms and seven in intensive care, O'Donnell said. The others are in alternate care facilities in the county.
Only 5,2% of hospital beds in the county are occupied by COVID-19 patients.
Board of Education Condemns Online Harassment of Student Member of the Board: https://t.co/KftUqSNF9U pic.twitter.com/NTohjG1PT0

— MCPS (@MCPS) February 28, 2022