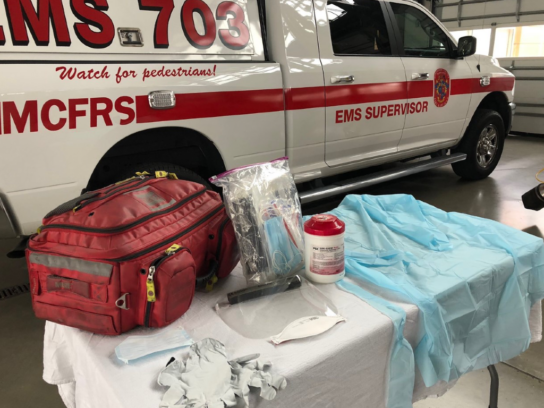 In the midst of the current health crisis, local first responders are continuously working to help reduce the spread of the coronavirus. During this ever-changing environment, officials say local hospital emergency rooms can become overwhelmed.
Montgomery County Fire and Rescue Services has implemented a new way to help potential coronavirus patients avoid the ER. EMS Strike Teams have been dispersed in anticipation of a possible surge in COVID-19 related dispatch calls. The teams recently hit the streets to respond to coronavirus-related calls in an effort to help relieve local hospital emergency rooms throughout the county.
Here's how it works: the teams consist of an EMT and Paramedic who respond where they are needed throughout the county. They provide another option for patients who don't necessarily have to go to the emergency room. Depending on their symptoms, it is determined if the best option for the patient is to stay at home, or in more severe cases, they would be taken to a nearby hospital.
MyMCMedia talked to MCFRS Chief Spokesperson Pete Piringer Wednesday about the EMS Strike Teams.
People who feel like they've been exposed to COVID-19 , or those who might have symptoms are urged to call their doctor to get advice on what steps to take. However, if you think it's an emergency, please call 9-1-1 and the dispatch caller will proceed with the best way to help.
What to Expect if You CALL 911 @MontgomeryCoMD SEE: What 911 will need from you: https://t.co/2nUUX7BQ94 … Know Address of Emergency, phone # your calling from, What is EMERGENCY & "do you have a cough or fever?" & more questions …. 3Rs @mcfrs Respectful, Responsible, Ready pic.twitter.com/iCKCPLCHfF

— Pete Piringer (@mcfrsPIO) March 31, 2020
If you are sick – Call your doctor: If you think you have been exposed to #COVID19 & develop a fever & symptoms, such as cough or difficulty breathing, call your healthcare provider for medical advice See: https://t.co/CUWYOpsahr or 911 if it's an emergency @MoCoDHHS @mcfrs pic.twitter.com/LTNh3fEs15

— Pete Piringer (@mcfrsPIO) March 31, 2020