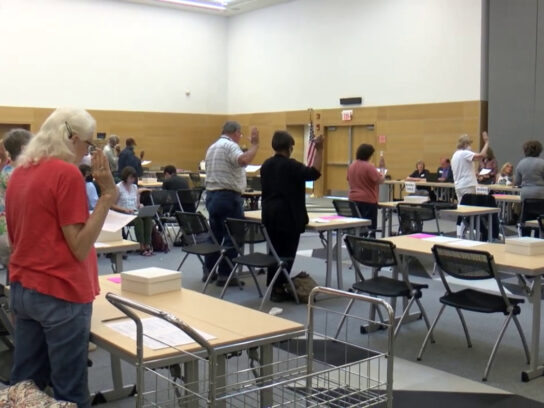 The Board of Elections resumed ballot counting Wednesday morning following a break Tuesday.
As of 9 p.m. July 26, the race for Montgomery County Executive remained too close to call. Businessman David Blair holds a slight edge over incumbent Marc Elrich.
So far, Blair has 42,705 votes to Elrich's 42,571. Blair currently has 39.33% of the votes cast to Elrich's 39.2%. That's a mere 134 votes separating the two candidates.
More votes remain uncounted. Mail-in ballots continue to be tabulated and are still being accepted for processing. More than 40,000 ballots have been tabulated with about 25,000 still outstanding.
To be counted, a mail-in ballot must be properly signed, postmarked by July 19, and received by the BOE no later than 10 a.m. Friday.
On Wednesday election workers focused on web delivery ballots which numbered more than 18 thousand.  Also among the uncounted votes are provisional ballots. Provisional voting enables everyone to vote, even if their vote is contested. If election workers could not find the person's name on the list of voters, that person may fill out a provisional ballot. If a mail-in ballot was requested but then the voter opted to vote on election day instead, that person also would receive a provisional ballot.
The BOE reviews the provisional ballots and then decides whether to count or reject them.
In case your interested. Tabulated mail-in canvass total:
Day 1: 4,796 ballots
Day 2: 14,782 ballots
Day 3: 10,640 ballots
Day 4: 11,175 ballots

(Insert PSA: Board of Canvassers convenes tomorrow, 10AM. For canvass info, calendar & livestream: https://t.co/ceVrHWSFN0.) 🇺🇸 pic.twitter.com/GnLydbW4jU

— MontgomeryMDVotes (@777Vote) July 26, 2022