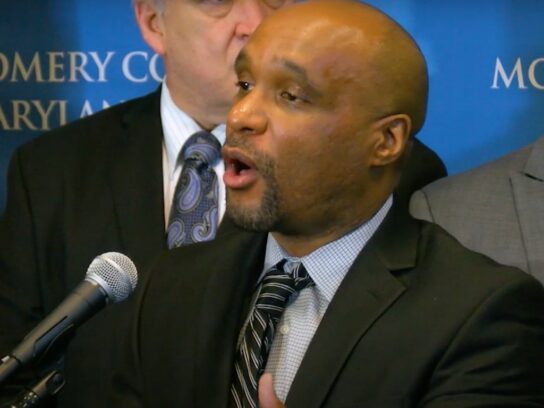 Montgomery County Health Officer Dr. Travis Gayles has resigned effective Sept. 12.
County Executive Marc Elrich announced Gayles informed him of the decision Wednesday morning. He held the position since Sept. 2017 leading public health decision-making for the county throughout the COVID-19 pandemic.
Elrich said Health and Human Services Director Dr. Raymond Crowel will work with the state health department to fill the position.
Read Elrich's statement:
"Earlier today, Dr. Travis Gayles informed me that he will be leaving his position as our County's Public Health Officer on Sept. 12. I want to thank Dr. Gayles for his guidance, expertise, and professionalism over the last four years, and particularly the last 18 months. His service to the residents of Montgomery County has been exemplary, and we are a healthier and safer County thanks to his work. Throughout this pandemic, Dr. Gayles has been a voice of reassurance and reason that our residents have counted on during the worst public health event in modern American history. I have relied on him because I trusted his decisions would be guided by science, not politics. His calm demeanor and sound leadership have been invaluable and helped Montgomery County become one of the most vaccinated jurisdictions in the nation. Our community has benefitted from his advice and knowledge, and he will truly be missed. I want to thank Dr. Gayles for his unwavering commitment to our County and wish him all the best in his future endeavors.
We are fortunate to have a strong team in the Department of Health and Human Services, the Division of Public Health Services, the Board of Health, and across my administration to continue our COVID-19 response and recovery efforts. Dr. Raymond Crowel will immediately begin working with the Maryland Department of Health on filling this important position."