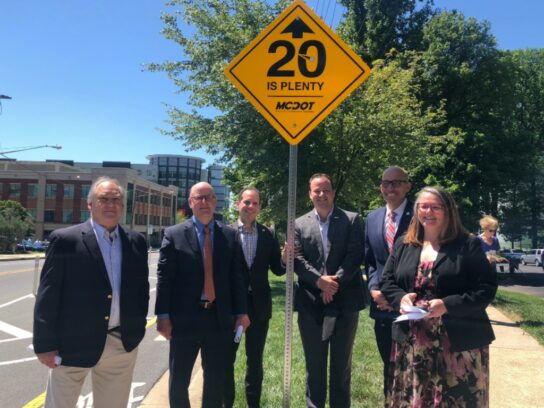 Montgomery County leaders on Thursday launched a new pilot program called "20 is Plenty" to reduce the speed limit on select roads to 20 miles per hour.
The program is intended to help improve road safety for pedestrians, bicyclists and motorists. The five pilot roads are in North Bethesda, Germantown and Long Branch. They are:
Woodglen Drive (North Bethesda)
Executive Boulevard (North Bethesda)
Pinnacle Drive (Germantown)
Century Boulevard (Germantown)
Greenwood Avenue (Long Branch)
According to the county, these streets are designated "urban roads" in county code. In North Bethesda, leaders unveiled a new "20 is Plenty" road sign on the corner of Nicholson Lane and Woodglen Drive.
The pilot begins Thursday, County Department of Transportation (MCDOT) Director Christopher Conklin said. The transportation department will measure the effectiveness of the program.
The new initiative is part of the county's ongoing Vision Zero effort, which aims to improve road safety and eliminate all serious and fatal collisions in the county by 2030. The pilot is possible through House Bill 562, which was sponsored by the county House Delegation and passed by the Maryland General Assembly in May. It allows Montgomery County to lower the speed limit to 15 miles per hour on local roads after conducting an engineering and traffic investigation.
A new "20 is Plenty" sign is unveiled on Nicholson Lane and Woodglen Drive in North Bethesda. @mymcmedia https://t.co/Y55RXJ0qv0 pic.twitter.com/KHmpKoWfOn

— Maryam Shahzad (@maryam_mcm) June 17, 2021
"20 is Plenty" will lower the speed limit on some streets to 20 mph to improve safety for pedestrians + bicyclists. The 5 pilot roadways are in Germantown, North Bethesda and Long Branch. @mymcmedia pic.twitter.com/lZEgfCj7YW

— Maryam Shahzad (@maryam_mcm) June 17, 2021